'With willpower, you can do anything' - Mayo manager on battle with thyroid cancer
May 05, 2018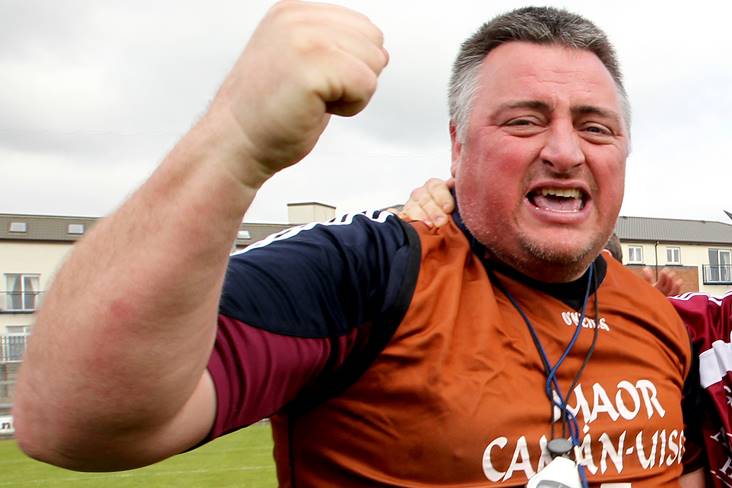 Peter Leahy.
MAYO ladies senior football team manager Peter Leahy has opened up about his experience with thyroid cancer, which led to heavy weight gain and a realisation that he needed to stop his ill-health from spiralling out of control. 
Leahy, who is preparing his side for tomorrow's (Sunday) Lidl NFL Division 1 final against Dublin, received his diagnosis in 2005, and describes it as one of the mildest forms of cancer that he could suffer from.
A combination of chemo treatment and radiotherapy over the course of four months was enough to defeat the illness, but the removal of his thyroid left him prone to putting on weight. 
In retrospect, he admits that he used his cancer to justify the weight gain and it wasn't until he was appointed the manager of the Westmeath minor footballers that he accepted it was time to confront the situation. 
"I remember getting the gear and they got me 4XL - XXXXL - O'Neill's gear and it didn't fit me.
"From that day, I changed my whole lifestyle. I changed what I was doing," he said at the launch of the 2018 Lidl Ladies National Football League finals this week.
"It was stuck to me. I looked in the mirror and I just went... People weren't telling me because people don't tell you. 
"I run every single day now, I run between three and five km every single day. I watch what I eat. I dropped nine stone.
"I wear a size medium to large now, from XXXXL.
"It's simply because, the way I looked at it was, as a strength and conditioning coach, it's very hard for people to believe in you when you look in the mirror and you're very big.  
"What I needed to prove to myself and to everybody else is that with willpower you can do anything, and with willpower, the thyroid was a lot slower to lose weight, it was a lot harder, I had to do twice as much as everybody else, but like anything, it's always good when it's hard," added Leahy, who is hoping to guide Mayo to Division 1 glory against Dublinon Sunday.  
Leahy doesn't run for pleasure and even during his days as a high-performance rugby and GAA player, he dreaded the pre-season training. Exercise has become a necessary part of his life, but his feelings towards it haven't changed much over the years. And every time he grabs his runners and calls his dog to go for a run, it continues to taunt him. 
But it's a worthwhile slog and it has enabled him to eradicate conditions from his life such as diabetes and sleep apnea, which he developed after putting on the weight. 
He's not obsessive about his new regime either and allowed himself to put on 10 pounds over the Christmas period before slipping back into his routine again to continue living a better life. 
"It's like anything, everybody has excuses in their lives. It's indicative of life itself, you can feel sorry for yourself or you can pick (yourself up) - it didn't take until I got the XXXXL stuff. You have to make these things up yourself. That's on a different level than football completely. 
"Everybody has it in them. I just firmly believe everybody's a winner. Everybody is a winner, it's about where it clicks and when it clicks. That's the most important thing."
Dublin v Mayo - Lidl Ladies National Football League final, Sunday, May 6, Parnell Park (4pm) - LIVE TG4/RTÉ Radio 1. 
Most Read Stories