Cora's become a 'crowd favourite' Down Under
April 14, 2018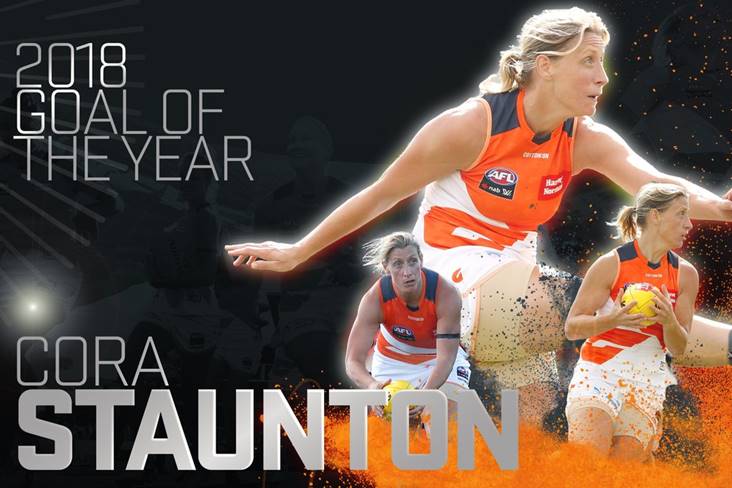 Cora Staunton's scores 'Goal of the Year' for the GWS Giants.
Cora Staunton has been described as a "role model" by her Great Western Sydney Giants team-mate Courtney Gum.
The Mayo ladies football legend has made a huge impact since joining the Aussie Rules club last October and has won a lot of admirers in the process. 
"She's a crowd favourite absolutely," Gum told RTÉ. 
"She's so dynamic, she plays with such flair in attack. When Cora got the ball, the crowd would just go crazy for her. Someone set-up a Cora Staunton fan page on Instagram, it was actually one of our teammates and it has a good few followers which is pretty cool.
"Her story is so incredible, [for] such a decorated Gaelic player to come across and try something totally new. It's just such an incredible story so obviously the crowd and the fans know that and they really invest in those stories so she's high on the fan list.
"After every game we would go and sign autographs on the boundary line and sometimes after a win the fans are able to come into the changing room and ask for signatures. We have fan days, which is really cool. She was really good about it, particularly with the young kids.
"I had to take my two nieces to training and Cora started kicking the footy with them. They ended up talking about Cora the whole time at home. I think in terms of fan days and signing autographs, I think Cora understands that she's a role model, she can influence people into being active and healthy and something they enjoy so that's a really positive thing."
Most Read Stories