"It is time for people to stop comparing and start appreciating sport for what it is"
November 20, 2019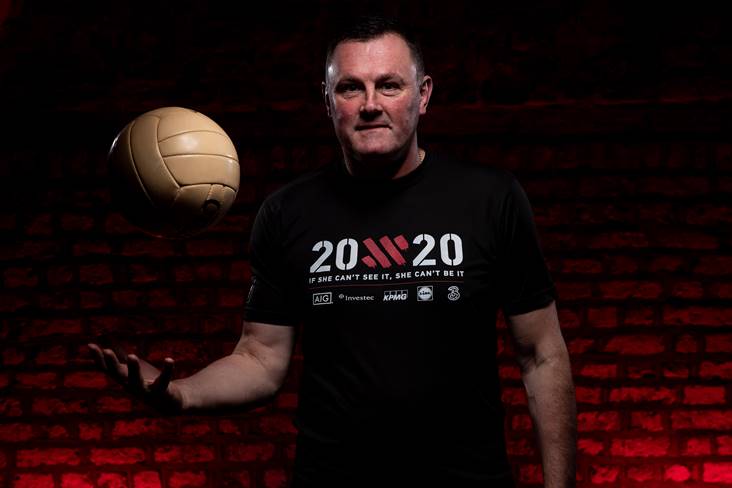 AIG's 20x20 Ambassador and Dublin ladies manager Mick Bohan. ©INPHO/Morgan Treacy.
'IF SHE CAN'T SEE IT, SHE CAN'T BE IT', the latest call to action from 20x20 asks women and girls in Ireland to show their sporting skill by posting their own skills videos on social media
AIG's 20x20 Ambassador and Manager to Dublin's three in a row All-Ireland Winning Ladies Team, Mick Bohan outlined his belief that women's sport is just as skilful as men's yet the audience gap in terms of those watching and attending female sporting events means they are not yet seen.
Bohan, manager to AIG sponsored Dublin ladies football team, was speaking at the launch of the new Call to Action for the 20x20 movement to drive visibility by calling on women and girls of all ages, levels and abilities no matter the sport, to make a video showcasing their skill and post it online using #CantSeeCantBe.
Bohan's view on the comparability of skills across male and female sport is backed up by research conducted by RTÉ Audience Insights/TRP which indicated that there was only a 2% differential in the perception of skill levels between male and female sport. 64% of those surveyed in the nationally representative sample said that women's sport was skilful with 66% of respondents saying the same of men's sport.
Despite this comparable skillset, RTÉ viewing figures indicate that whilst growing, the viewership of televised female sports events remains between 65% and 89% lower than comparable male events for example, the All Ireland Hurling and Camogie Finals and the FAI Women and Men's Cup Finals.
20x20, created by Along Came A Spider, set out to address this disparity and after just twelve months is having the desired impact on behavior. According to the RTÉ/TRP research 62% of those aware of the 20x20 movement say they are watching more sport on TV, 57% are reading more about women's sport in the media and 38% are attending more female sports events.
Speaking today, Mick Bohan said, "Having worked across both male and female sports, I can say with conviction that whilst men's and women's sport is different, there is no distinction when it comes to either skills or effort. It is time for people to stop comparing and start appreciating sport for what it is, for the competition, the quality, and the skill on the field across both disciplines. Female sport is just as compelling, and I would encourage everyone to get behind women's sport in whatever way they can. I look forward to seeing the great skills online in coming weeks."
Sarah Colgan, MD Along Came A Spider and Founder 20x20 said, "20x20 is one year old and now, at the midway mark, we want to answer some of the non-believers by making women's sporting skill more prevalent. We are asking women and girls around the country to post their skills online using #CantSeeCantBe not just to showcase their ability but also to show people right around the country that women's sport is strong, valuable and worth celebrating."
John Gillick, Head of Consumer Marketing and Sponsorship, AIG Ireland commented, "We know that Irish female athletes deserve as much of a platform, as much of an audience and as much attention as our male athletes. AIG is proud to sponsor the 20x20 movement and help showcase the skills of our female athletes, so that soon it's not a showcase, it's the norm."
Mary O'Connor, CEO Federation of Irish Sport "As a former All Ireland football and camogie player, I know how skilful women's sport is. I would encourage women and girls to get their skills videos up online, show people what they are about and inspire more people to see women's sport and female athletes; driving this awareness I know will in turn drive the participation."
20x20, created and driven by Along Came A Spider and presented by the Federation of Irish Sport, have today released their third themed film in the 20x20 series which spotlights some of the exceptional skills and talent of female athletes, proving they are as exciting to watch as their male counterparts. Each film in the series will cover a different theme impacting women in sport, and can be viewed at www.20x20.ie or across their social channels, @20x20_ie on Twitter and @20x20.ie on Instagram.
Most Read Stories