Ladies: Westmeath claim first-ever All-Ireland U14 crown
June 22, 2019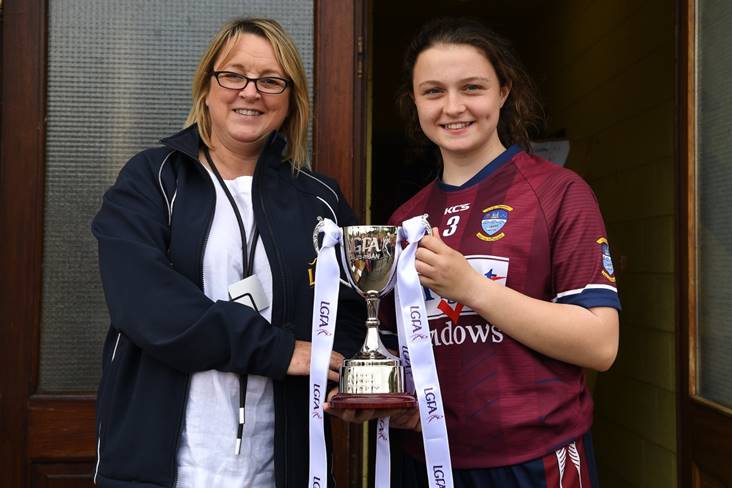 Kelly Burke of Westmeath is presented with the cup by Eileen Jones, Ulster President, after the Ladies Football All-Ireland U14 Bronze Final 2019 match between Derry and Westmeath at St Aidan's GAA Club in Templeport, Cavan. Photo by Ray McManus/Sportsfile.
Derry 1-09
Westmeath 4-17
By Aisling Clery in St Aidan's, Templeport
Emma Tumelty hit 1-07 as Westmeath were crowned All Ireland U14 Bronze Champions at a sun-drenched St Aidan's Templeport on Saturday afternoon. While Westmeath were six points ahead at the break, Derry pulled them back to a point before Westmeath upped the ante and raced to victory, claiming their first-ever All-Ireland U14 crown in the process.
The game opened at pace despite the heat, with Jeanette Slevin converting a free in the second minute for the game's first score. Westmeath got back on level terms through Rachel McKenna a minute later. The sides traded scores once more before Lisa Seery broke the deadlock for Westmeath and the Leinster side didn't look back.
Sadhbh Gorman split the posts from 30 yards and a green flag midway through the half from Seery put Westmeath in the driving seat. The game was end to end with both sides raising white flags; Emma Tumelty and Sadhbh Gorman on target for the side in maroon.
Derry found the going tough at times but they continued to run at the Westmeath rearguard – Cara Donnelly and Jeanette Slevin getting their names on the scoresheet.
Sadhbh Gorman found her side's second goal five minutes from the break but it was Derry who got the last score of the half, a super effort from Carla Collins. Westmeath led by six at the break.
Derry got off to a rip-roaring start in the second half; a brace of frees from Slevin and Niamh O'Donnell brought the Ulster side back to within four points. A minute later, Derry were handed a lifeline as Cara Donnelly's goal got them back to within a single point. On the resumption, Westmeath's response was calm but immediate – Tumelty finding the net to restore Westmeath's four point lead.
From then on, Westmeath upped the ante with Tumelty, Lisa Seery, Claire Gaffney and Emer Fogarty all raising white flags. As both sides rang the changes, Westmeath continued to increase their tally with Tumelty the driving force upfront. Derry added a point late on from Rhianna Doherty but it was too late, as Westmeath were left to celebrate a famous victory.
Derry scorers: C Donnelly (1-01), J Slevin (0-03, 2F), C Collins (0-03), N O'Donnell & R Doherty (0-01 each).
Westmeath scorers: E Tumelty (1-07), L Seery (2-03), S Gorman (1-03), E Fogarty (0-02), C Gaffney & R McKenna (0-01 each).
Derry: E Rabett, N McGlinchey, C Dillon, S Casey, S Heron, E Ferguson, K Harkin, M O'Neill (C), C Donnelly, N O'Donnell, J Slevin, E Stuart, C Conway, C Collins, N McKenna. Subs: E Mullan, R Keenan, S McLarnon, L Brewster, L Harris, T Donnelly, R O'Neill, G Loughran, K Watson, T Burns, R Doherty.
Westmeath: E Temple, H Kiernan, K Burke (C), N McKenna, T Coyne, N Sweeney, A Coogan, C Gaffney, T Foley, E Fogarty, A Ditullio, S Gorman, E Tumelty, L Seery, R McKenna. Subs: C Kilmurray, G McGlynn, S Conlon, E Corcoran.
Ref: Garryowen McMahon (Mayo).
Most Read Stories