'It's been a completely different environment'
May 03, 2019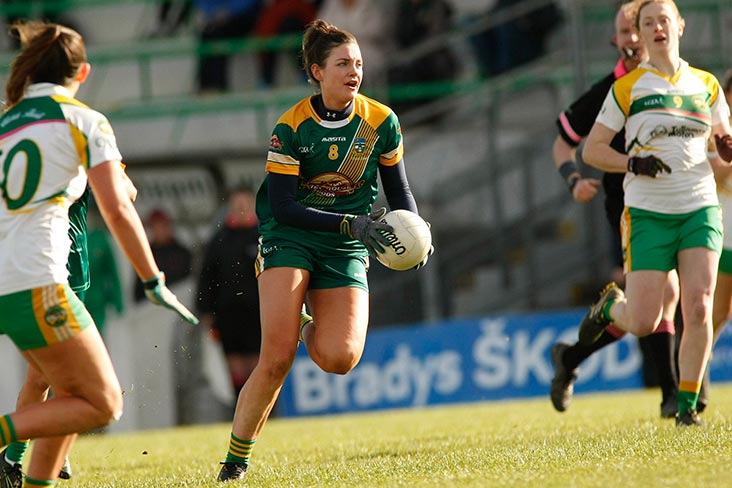 Meath captain Máire O'Shaughnessy
by John O'Sullivan
Meath captain Máire O'Shaughnessy believes the Royal County's disappointing 2018 season will spur them on to reach new heights this time round, starting with Saturday's Lidl National Football League Division 3 final against Sligo in Clones (4pm).
The 26-year-old Donaghmore-Ashbourne star, who was promoted from vice-captain to captain this term, says that the positive environment in the camp is conducive to Meath going one step further this season.
Last year promised so much for the Royals but defeat to Wexford in the Lidl NFL Division 3 final denied them promotion, while that was followed by a loss to Tyrone in last year's TG4 All-Ireland Intermediate final.
"I think we kind of came back in, in 2019 just kind of pissed off, really.
"We realised: right, we can get that far. We want to go one step further, obviously," said O'Shaughnessy.
"We brought in new players as well that have an interest in achieving the same things.
"From the word go this year, it's been a completely different environment.
"So positive, hard-working and everyone's just upped a level or two. It's been great."
While the championship is the ultimate priority, Meath will be looking to avenge their Division 3 final defeat to Wexford last season, but in their way stand familiar foes, Sligo. Meath defeated Sligo in the first round of the League in February, but the midfielder maintains that their progression since that point will make for a tough match.
"Yeah, we played Sligo in the first round. It's very hard to tell what will happen. They have come on — I think they lost their first two games and then they've had something like five wins in a row.
"So, they've progressed as the league has gone on, so I'm sure they'll be a completely different team when we play on Saturday."
Eamonn Murray's charges, whose solitary league defeat came in their final game — effectively a dead rubber against Down with qualification already sealed — will take nothing for granted in the decider though.
According to O'Shaughnessy, the standard of football on show in Division 3 has improved this year.
"We're very happy. We would have gone into the season confident enough from being in the final last year. But the bar is coming up, it's very competitive this year in Division 3.
"So you couldn't take any game for granted. Yeah, we're very happy but it all comes down to Saturday. That's the one you want to win; the rest are irrelevant now."
Most Read Stories