Ladies: Bohan welcomes the return of 'Goldie'
March 04, 2019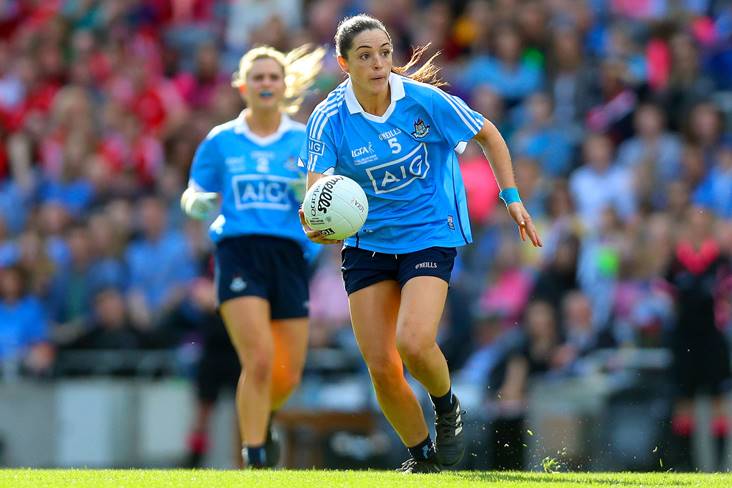 Dublin's Sinead Goldrick. ©INPHO/Tommy Dickson.
The return of Sinead Goldrick to the Dublin squad was welcomed by manager Mick Bohan, but he praised his side's hunger to fight for the 'dirty ball' in their Lidl National Football League win over Westmeath.
Dublin stay hot on the heels of unbeaten Galway and Donegal with their third win on the bounce, but they were made to fight hard for it by Sean Finnegan's spirited side.
Despite the best efforts of Westmeath attacker Anna Jones, the experience of Carla Rowe and goal scorer Noelle Healy helped the Sky Blues to maintain their push for a semi-final spot.
"To be honest, when you play in those conditions it obviously changes the way you can view things. There was a lot of good, battling qualities from the players," said Bohan.
"Obviously today, that spirit just to fight for dirty ball was just a key element, so we're happy to get through it. A lot of girls got game time again, which is obviously our objective.
"The Sinead Goldricks and the Sinead Ahernes need to play. They can't just come back on the stage and play a certain level without game time. That's Goldie's first 15 or 20 minutes of football this year.
"It's a thin line between trying to give people game time and at the same time making sure the players that you certainly know are going to be involved, are going to get game time and they're going to be sharp."
Tim Rabbitte was also thrilled to see his Galway side pick up a fourth straight win as Sarah Conneally's goal helped them to a convincing Connacht derby victory against Mayo at MacHale Park.
Playing into a strong wing Galway still led by two at the break, while Conneally's goal ensured there would be no Mayo comeback.
"We are delighted to get the win. The performance is a bit of a mystery to us now but the conditions were so difficult," said Rabbitte.
"It puts us in a good position in the league but it's early doors yet. We will take the points and move onto the next day.
"I don't think Galway are in a place where we can be casual about the league. We have to take every game seriously."
Donegal are joint top of the table as Karen Guthrie, Róisín Friel and Geraldine McLaughlin all found the net in their two-point win over Tipperary in Convoy.
The excitement ramped up in the second period when two quick goals from Guthrie and McLaughlin opened out a ten-point lead. Tipp charged back thanks to goals from Anna Rose Kennedy and Roisin Howard, but Maxi Curran's side held on to win.
"We're sitting pretty at the top of the table. I don't think anyone would've predicted that a few months ago, but we're still there," said Curran.
"If we had won by 15 or 20 points, we'd have learned very little. We had to battle and the girls had to grit their teeth. The pressure is off now to an extent."
Meanwhile, Cork boosted their chances of reaching the last four after they soundly defeated Monaghan in Inniskeen.
Orla Finn was the chief scorer with a 1-8 haul, while further goals from Áine Terry O'Sullivan, Libby Coppinger, Ciara O'Sullivan and Doireann O'Sullivan gave Cork the three match points.
In Division 2 Armagh also kept their winning record intact with a three-point win over Tyrone in Garvaghey. After trailing by a point at the break, Tyrone took the lead with a goal, but Aimee Mackin punched her seventh goal in four games nine minutes after the restart.
Waterford claimed a 3-7 to 0-15 narrow win away to Cavan, their second win of the competition, while the game between Kerry and Wexford was postponed due to heavy rain in the area, as was Clare versus Laois.
In Division 3 the game between Kildare and Offaly had to be abandoned before half-time as conditions worsened dramatically. Roscommon picked up their third win of the competition, with Niamh Feeney's first-half goal proving crucial as Down launched a late comeback, and in the clash between Longford and Meath, the visitors to Pearse Park won out thanks to a handful of goals. Sligo also claimed victory in Cloonacool on a 1-16 to 0-12 scoreline against Wicklow.
And in Division 4 Derry were runaway winners over Kilkenny, Fermanagh proved too strong for Leitrim, while Antrim ousted Limerick, and the game between Carlow and Louth was also cancelled due to an unplayable pitch.
Results
Saturday 2 March
Lidl NFL Division 1
Mayo 0-8 Galway 1-11
Donegal 3-11 Tipperary 3-9
Lidl NFL Division 2
Tyrone 1-6 Armagh 1-9
Sunday 3 March
Lidl NFL Division 1
Dublin 1-8 Westmeath 1-3
Monaghan 1-4 Cork 5-17
Lidl NFL Division 2
Kerry P-P Wexford
Clare P-P Laois
Cavan 0-15 Waterford 3-7
Lidl NFL Division 3
Roscommon 1-7 Down 0-8
Longford 1-12 Meath 5-12
Sligo 1-16 Wicklow 0-12
Kildare A-A Offaly
Lidl NFL Division 4
Antrim 4-8 Limerick 1-8
Derry 4-28 Kilkenny 1-8
Carlow P-P Louth
Fermanagh 3-9 Leitrim 2-9
Most Read Stories