"There is growing support all over the country" - Eimear Meaney
January 30, 2019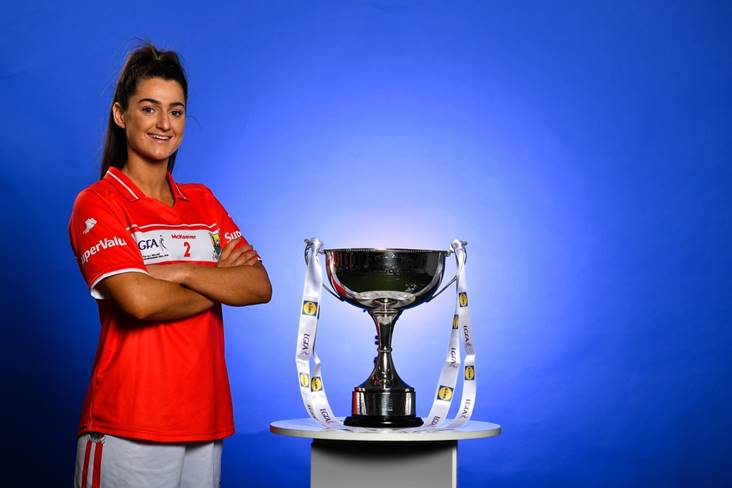 In attendance at the launch of the 2019 Lidl Ladies National Football Leagues at Croke Park, Dublin, is Eimear Meaney of Cork. In their fourth year of partnership with the Ladies Gaelic Football Association, Lidl Ireland are proud to announce various new initiatives and programmes to ensure even more participants at every level of the game reap the benefits of the sponsorship during 2019. The first new initiative, which is live as of today, will see Lidl Ireland invest €250,000 in a nationwide schools campaign where 159 post primary schools across the country will receive jerseys and equipment for their teams. Selected schools will then go on to take part in a brand new #SeriousSupport programme delivered by LGFA county level players which aims to show girls the benefits of playing sport both on and off the pitch. To nominate your local LGFA post primary school, simply log on to www.lidl.ie/jerseys today and enter the 10-digit unique code found at the end of your till receipt. Throughout the year Lidl Ireland will continue to run and introduce various new initiatives for the benefit of clubs and schools throughout the country. Photo by Brendan Moran/Sportsfile.
By DARAGH SMALL
CORK defender Eimear Meaney says she is thrilled with Ladies Football's progress and that Cork's aim is to get back to Croke Park in 2019 in order to bury the memories of the disappointing TG4 All-Ireland Senior Final defeat to Dublin last September.
Speaking at the launch of the Lidl National Football League, where the sponsors revealed they are supporting the broadcast of a weekly national league fixture as well as the All-Ireland Post Primary Schools Senior A Final this year, Meaney insisted Cork are keen to get back to action.
Ephie Fitzgerald's side launch their Lidl Division 1 campaign by welcoming Galway to Mallow on Saturday (1pm), and she's excited to get back to the playing field.
"We were bitterly disappointed last year. Our aim is to get back to Croke Park again this year," said 2018 TG4 All Star nominee Meaney.
"You have to take every competition as it comes. At the moment we are focusing on the league and hopefully getting the league off to a good start, onto Munster championship and hopefully go onto the All-Ireland series then.
"Obviously we want to go back and get a second chance at it. But at the moment we are just concentrating on having a good league campaign."
As well as streaming a game from each of the seven regulation rounds of fixtures, the LGFA Facebook page will also broadcast selected semi-finals from the competition.
The Lidl All-Ireland Post-Primary Schools Senior A final, which is due to take place on the weekend of 30/31 March, will also be available live on Facebook.
While the honour of playing the first game of the season falls to the All-Ireland runners-up, reigning league and All-Ireland champions Dublin host Donegal in the second Division 1 tie at Croke Park later in the day, a tie that will be televised live on eir sport.
And after 50,141 turned out at Croke Park to see Dublin defeat Cork in last September's TG4 All-Ireland final, Meaney is thrilled with the stride Ladies Football continues to take.
"We are breaking records every year at the All-Ireland finals for the attendance. There is growing support all over the country," said Meaney.
"You are getting more young people involved in the game."
It has been a busy few months away from the inter-county fields for Meaney, too, after she player her part in helping Mourneabbey to All-Ireland senior club success at the end of 2018.
And she knows it's crucial that her county begin the new year with a win.
"I am looking forward to getting back at it now. First league game this Saturday against Galway. So hoping to start the year with a good win and hopefully get a few scores on the board and start as we mean to go on."
Most Read Stories