Ladies: A dream come true for Cronin and Clontarf
December 10, 2018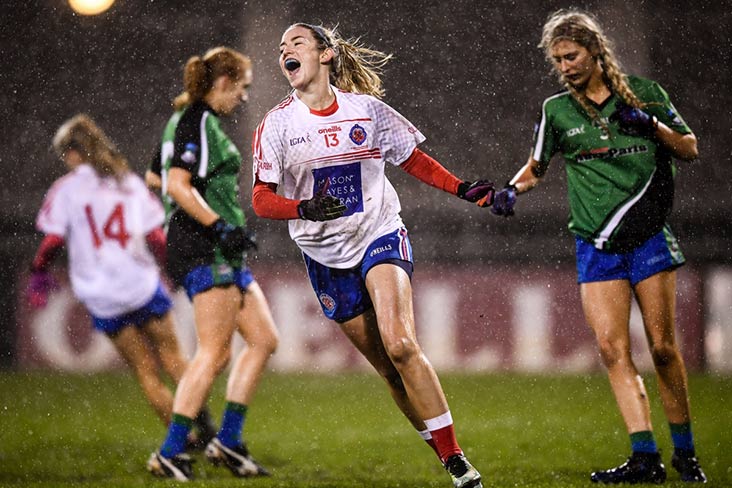 Delight for Clontarf's Siobhan Killeen
By DAIRE WALSH
Clontarf manager Mick Cronin says it was a dream come true to see his players hit their stride in an All-Ireland final as they became the first Dublin team to win the Ladies Intermediate club title.
Republic of Ireland and Dublin star Siobhan Killeen scored 5-4 in a 27-point win (8-14 to 2-5) over Monaghan outfit Emmet Óg at Parnell Park on Saturday.
Clontarf took a 3-4 to 1-4 lead into half-time but didn't sit back on their advantage and Emmet Óg couldn't become the first Monaghan winners since Emyvale in 2008.
"In my wildest dreams I didn't think we'd win by the score we won by, or perform like we performed in the night that was in it," said Cronin.
"The second half performance was absolutely outstanding. It's a great credit to them and the work they've put in over the last number of years. Especially the last 11 months, where they've really, really put their heads down.
"Trained and performed in every game that we've asked them to. Really, really proud."
Once Killeen scored the first Clontarf goal in the third minute Emmet Óg were always chasing the game.
Tara Fitzgibbon and Killeen scored goals either side of Chloe McBride's effort for a comfortable lead at the interval.
Clontarf were looking to be successful where Dublin's Thomas Davis and St Brigid's had failed in the past. Caoimhe O'Connor and Caroline Roban added further goals but Killeen twice hit the net after half-time.
"You get the ball into Siobhan and you know she's going to finish it. As I said, you've got to get the ball into her and the ball was perfect," said Cronin.
"There's a lot of hard work goes on out the field to get that space open in front of Siobhan for her to finish.
"She's the finisher, she's brilliant at it and she really did a wonderful job tonight.
"But there's 24 other girls in the squad who really worked hard as well."
It was a harsh scoreline for Emmet Óg to take but manager Gerry Treanor knows they will be back again.
"We're still very proud of ourselves. We're county champions, we're Ulster champions," said Treanor.
"We're a better side than the scoreline says and that's not taking anything away from Clontarf. You'd love to meet them maybe in different conditions, but you have to play the conditions you play in.
"We'll have to get back to the drawing board again, but we're in a place we never thought we'd be at the start of the year.
"Although we're disappointed in the performance, we're still the second best team in Ireland. That's not too bad."
Most Read Stories