Sarah Rowe settling in with Collingwood
November 28, 2018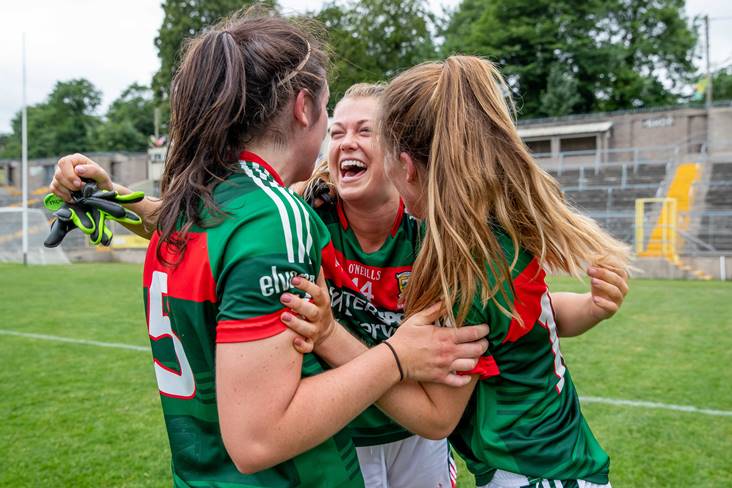 Mayo's Sarah Rowe celebrates with Rachel Kearns and Sarah Mulvihill.
©INPHO/Morgan Treacy.
by Daragh Ó Conchúir
Sarah Rowe says that workrate will be the key for her as she bids to make it in the AFLW with Collingwood.
Rowe has already operated at elite level in two other sports, winning five caps for Ireland at senior level in soccer before opting to concentrate fully on ladies Gaelic football with Mayo. She played in the 2017 All-Ireland final and will be back in time for the westerners' championship campaign next summer.
For now though, the granddaughter of Mayo legend Paddy Jordan is attempting to establish herself in Aussie rules and is settling in well in her first week in Australia.
"The move has been really good" Rowe says on the club website. "It's the jetlag that's been a struggle to get over, but I've moved in with Ruby (Schleicher) and getting to know the girls and getting to know how the club works has been really good."
The 23-year-old Kilmoremoy forward professes herself fortunate that the Pies have a number of other cross-code players, including Ash Brazill, Eliz Hynes and Georgie Parker.
"There are a few people around who are in the same position as me, who have transitioned between different sports. It's good to know other people have done what I'm hoping to do over the next few weeks. So I'm really looking forward to it – obviously nervous but looking forward to it."
Rowe has been training with a heavy strapping on her right shoulder, after having surgery on it 10 weeks ago. She suffered a dislocation in a college game earlier in the year but delayed the necessary procedure until after Mayo's involvement in the championship concluded.
So far, there have been no issues with the shoulder but Rowe knows that the physicality of Aussie rules, and the difference in tackling especially will be a test. She will bid to transfer the athleticism and skills she has from ladies football to good effect however, while picking up ones necessary for AFL footy as quickly as possible.
"It's going to take a while to get used to. I'll be doing extra hours on the days off making sure my skills are up to scratch, making sure I'm as fit as possible and doing all the things that don't take skill or don't take talent, trying to raise the standards that way. Working hard is the big thing for me.
"I love the whole professional set-up. I love that everything is on your doorstep, you don't have to travel too far. I travel three hours to get to training at home and things are a lot harder to do but I do it because I love it.
"Over here it's to have all the access to physios, nutritionists… anything you need is there for you. That whole professional living and life I really was attracted to.
Collingwood coach, Wayne Siekman has praised Rowe's professionalism as one of her best qualities.
"She's played at the highest level" Siekman said. "She knows how to work hard and what to do. "Although she's never played our game before, she's got those elite behaviours. Straight away she's got the work ethic and knows how to push herself to be the best she can be."
Most Read Stories