Staunton says she was disrespected by manager
October 14, 2018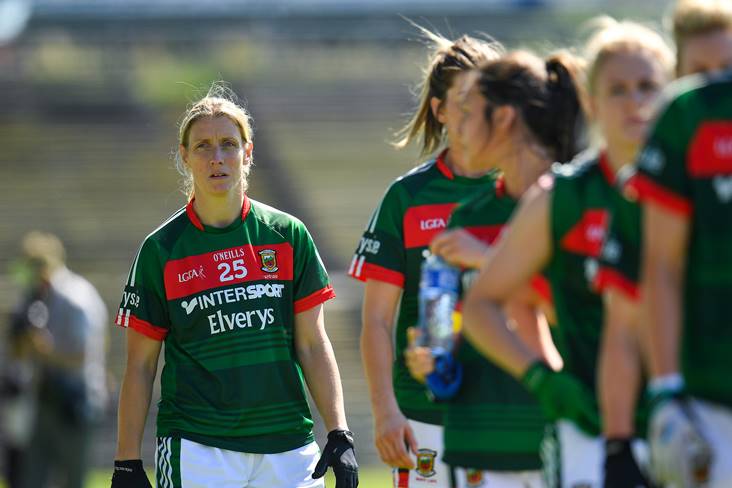 Mayo's Cora Staunton before the Connacht SFC final clash against Galway at MacHale Park, Castlebar.
Cora Staunton claims she wasn't fairly treated by Mayo ladies football manager Peter Leahy this year.
In extracts from her new autobiography, which appear in today's Sunday Independent, Staunton said she felt like she was being "interviewed for a position on the Mayo team" after returning from a stint in Aussie Rules last spring. The ladies football legend was one of eight Carnacon players who subsequently left the county panel citing alleged player welfare issues.
"I was basically being interviewed for a position on the Mayo team! I didn't know of any other player who'd had to sit through something like that," Staunton said of a list of questions Leahy had posed to her following her return.
"Why me? It was so disrespectful, and disappointing. If I could turn back the clock, I'd have walked out of there. After more than two decades of giving my all to my county, my character and commitment were being questioned, prodded and poked. I was so angry, but I managed to stay calm.
"We'd had many a good talk about football so he wasn't a stranger coming in, trying to figure me out. He knew what I was about, and often praised the winning mentality that Carnacon players had, but now I was getting the impression that he didn't want me back. So I asked him straight out. Did he want me back on the team or not? He said he did, but he couldn't guarantee me a place.
"I didn't expect to be guaranteed a place. I just expected fair treatment, and that in no way should my age be a reason not to play me. If I was good enough, then I was good enough. Peter wanted an answer right there and then, but I told him I'd come back to him in a week with my decision."
Most Read Stories