Ladies: St Brigid's reach final in scrappy defeat of gutsy Thomas Davis
September 24, 2018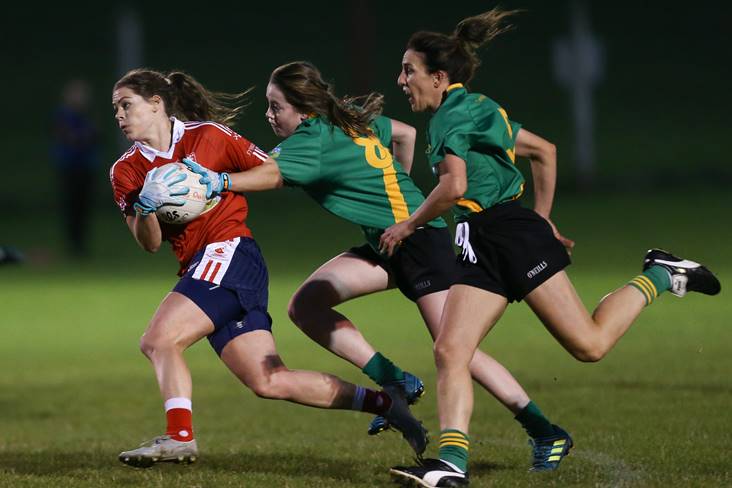 St Brigid's Noelle Healy skips past the challenge of two Thomas Davis players. Pic credit: GAApics.com©.
ST BRIGID'S 1-7
THOMAS DAVIS 0-7
St Brigid's saw off Thomas Davis at Lawless park, Swords on Saturday night, doing enough to control a bitty encounter that was largely dominated by the two sides' rugged defences, and reaching the Dublin Senior Football Final in the process.
The two teams cancelled each other out in a scrappy opening, both defences getting the better of their counterparts. It was Brigid's who found the mark first, Amy Fitzpatrick and Emma Sherwood both hitting points from play after bursts into the Thomas Davis backline.
So it remained until the 15th minute, though in the process Ciara McGuigan fired a shot across the bows of Ciara Trant's goal, and Thomas Davis looked marginally the better side. Brigid's, however, were markedly more clinical, and doubled their lead to 0-4 to 0-0 after 20 minutes through Noelle Healy and another Sherwood effort.
Soon, Brigid's were starting to play the ball around, and while defences were still on top, momentum slowly swung their way largely thanks to their midfielders getting into gaps, with Thomas Davis pushed back.
A scrappy half without too much between the teams ended with Sherwood adding another, and then a pull in the Davis defence, with the ball in play behind goalkeeper Caitlin Stanton, gave Ciara Trant the chance to score one of her trademark goalkeeper's penalties.
Orlagh McGuigan's late point ensured Davis' didn't draw a first half blank, but St Brigid's went in 1-5 to 0-1 in front.
The scrappiness continued into the second half, with both sides hitting early wides in increasingly frosty conditions. McGuigan dropped over a free for Thomas Davis six minutes in, and Kate Fitzsimmons clipped high on the Brigid's post shortly afterwards.
Davis were growing into the game, though and Sinead Deegan's point from wide on the left gave them confidence. The scoreboard still showed a two goal margin, though Ciara McGuigan's free, clawed out from under her bar by Dublin 'keeper Trant, was nearly scrambled into the Brigid's goal on the rebound.
A pair of Ciara McGuigan frees for Thomas Davis closed the gap to four points with ten minutes remaining as they took control. The Tallaght side did have to scramble the ball out from close to their goalline with five minutes left on the clock, but came within a goal late on, even smashing the crossbar with their final play. They had won the second half by four points.
Ultimately, though, it was St Brigid's ability to create chances from open play that proved the difference. For the third time in four years, they'll play Foxrock Cabinteely in the Dublin Senior Football Final.
ST BRIGID'S SCORERS: Emma Sherwood 0-4 (0-1f), Ciara Trant 1-0 (1-0 pen), Noelle Healy 0-2, Amy Fitzpatrick 0-1.
THOMAS DAVIS SCORERS: Ciara McGuigan 0-3 (0-3f), Orlagh McGuigan 0-2 (0-1f), Sinead Deegan 0-1, Rachel Newell 0-1.
St Brigids: Ciara Trant, Niamh Jacob, Deirdre Murphy, Clare McCormack, Sorcha Furlong, Caroline Brogan, Aimee Molloy, Emma Sherwood, Noelle Healy, Lorraine Brennan, Niamh O'Donovan, Amy Fitzpatrick, Louise Reilly, Leah Mullins, Siobhan Devlin. Subs: Aoife Joyce, Anne Marie Troy, Shauna Hinkson, Enya Farrell, Aoife Coffey, Carmel Monahan, Mairead McCarthy, Sarah Patton.
Thomas Davis: Caitlin Douche Staunton, Debbie Brennan, Rhiona McTavish, Emma Whelan, Siobhan McGrath, Olwen Carey, Tammy Quinn Corbally, Kerri Owens, Miriam Liston, Rachel Newell, Orlagh McGuigan, Sinead Deegan, Niamh McGoldrick, Jade Sweeney Knott, Ciara McGuigan. Subs: Ailbhe Carey, Amanda Shields, Georgia Plowman, Nicola Staunton Douche, Kate Fitzsimons, Stacey Byrne, Jen Creed, Lauren Young, Jade Riordan, Emma Kennedy, Aisling Daly, Sarah Roche.
Referee: David Murphy (St James Gaels).
Most Read Stories