Ladies: Leahy to speak with Staunton after Sunday's final
May 02, 2018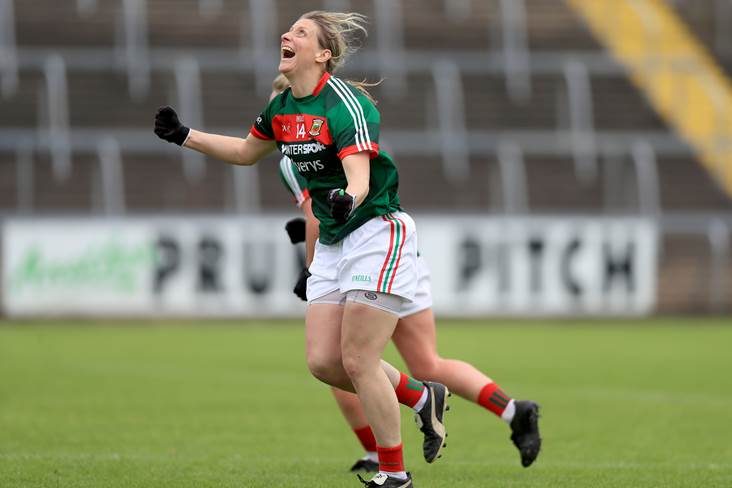 Mayo's Cora Staunton celebrates a victory over Cork.
©INPHO/Donall Farmer.
by Sinéad Farrell
Mayo manager Peter Leahy says he will speak to Cora Staunton about her inter-county plans for 2018 after his side's Lidl Ladies NFL Division 1 final against Dublin on Sunday.
The four-time All-Ireland winner recently returned to Ireland following her stint in Australia where she played with the Greater Western Sydney Giants in the Australian Football League Women's (AFLW).
Staunton impressed during her time Down Under as her side narrowly missed out on a place in the Grand Final.

Leahy revealed that he has been in regular contact with Staunton since her departure, but noted that they will wait until after the league decider at Parnell Park on Sunday before they discuss a possible return for the star forward ahead of the Connacht championship.
"Cora is a pure and utter Mayo person," he said at launch of 2018 Lidl Ladies National Football League finals in Dublin on Tuesday.
"Her angle and my angle is [to] leave it be, get the league final over and we'll sit down and talk then.
"She's honouring the girls that are there, that have done the job to get to a league final. She doesn't want it to be about Cora Staunton, I don't want it to be about Cora Staunton.
"I don't want it to be about Peter Leahy either, this is about the girls that have got to a league final, who are playing outstanding football right now so that's what it's all about.
"The Cora issue is not an issue in any way shape or form. Cora is a Mayo person, she's back in Mayo and I don't think there's anyone in the country who wouldn't want Cora Staunton around so at the moment we're leaving it off and we'll sit down next week and have a chat."
Fellow Mayo stalwart Martha Carter has returned to training with Mayo in recent weeks which is a welcomed boost to the squad, while the future of goalkeeper Yvonne Byrne remains undecided.
Similar to the situation with Staunton, Leahy said that they will continue to keep in contact.
He said: "Yvonne has just so much on. She works in Dublin, she lives in Cavan, it's practically an impossibility for Yvonne [to play right now]. That's another issue [where] we'll chat away but it's very hard for Yvonne."
Despite the absence of Staunton, Byrne and Carter at the start of 2018, Mayo came through the league campaign to book their place in a Lidl Division 1 final after dethroning the reigning champions Cork in the semi-final.
They are now seeking a first top-flight league title since 2007, and Leahy is pleased to see other players assuming the leadership roles as they prepare to meet Dublin in what will be a repeat of their All-Ireland final clash in Croke Park last year.
Leahy said: "It's nearly a shock factor not having them around.
"Cora, Martha and Yvonne have led the Mayo set-up for a number of years and it was time for other people to step up. In ways it was very difficult, in ways it was a big help because these girls have to find themselves and they have found themselves.
"That can only help Mayo along the way right across the board. I'd be huge into empowering players to stand up and be counted when it matters, let them play externally and express themselves. I'm a huge believer in expression."

He added: "You can train all you want, you can teach people all you want but at the end of the day they're the ones on the field during that 60 minutes who have to express themselves so I don't like keeping people in a box, 'you must do this or you must do that.' Flair is what the game is all about and individualistic things is what it's all about.
"Our two inside forwards scored 0-16 between them the other day, that's fair expression.
"The only wide we had was from one of our backs. Six people scored at the weekend, eight people scored the weekend before that and nine people scored the weekend before that. We're getting a good spread of scores and that's because we're expressing ourselves.
"No-one gets given out to for taking a shot. No-one gets given out to for doing the wrong thing. As long as everyone openly expresses themselves, that's the most important thing to me."
Most Read Stories