22 Lá Náisiúnta Blitz na gClub Gaeltachta participants revealed
March 29, 2018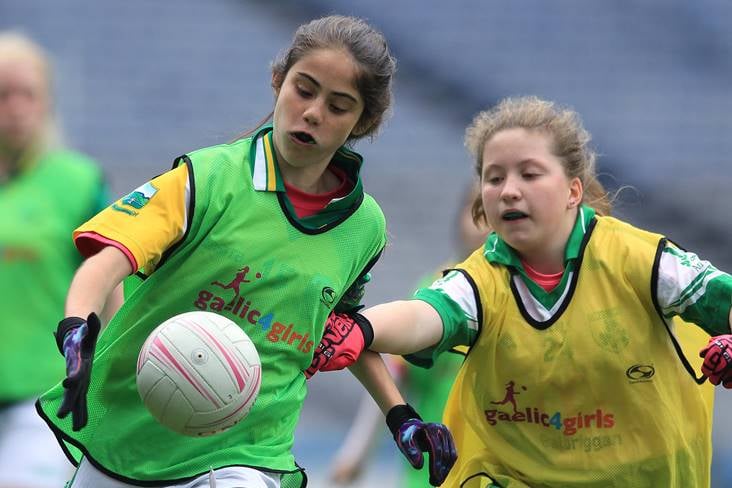 Lá Náisiúnta Blitz na gClub Gaeltachta is part of the LGFA's ongoing initiatives to celebrate Bliain na Gaeilge.
22 clubs and schools will take part in the Ladies Gaelic Football Association's very first Lá Náisiúnta Blitz na gClub Gaeltachta, in association with championship sponsors TG4. 
On Easter Monday next (April 2), Lá Náisiúnta Blitz na gClub Gaeltachta will see U12 girls from all over Ireland pit their wits against each other and mingle with some of Ladies Football's leading stars. 
Lá Náisiúnta Blitz na gClub Gaeltachta is part of the LGFA's ongoing initiatives to celebrate Bliain na Gaeilge. 
Details of TG4's 2018 championship coverage, with 19 fixtures due for broadcast, were revealed recently, as the LGFA and TG4 also unveiled a logo bearing the words 'Peil na mBan.' 
Next Monday, clubs and schools from Donegal, Galway, Kerry, Dublin, Meath, Mayo, Kildare and Cork will get the chance to play on the hallowed Croke Park sod. 
The LGFA's official retail partner and National League sponsor Lidl will also provide lunches to the competing teams. 
Lidl will also assist with the coordination of the day through the provision of mentor bibs and the presence of Lidl ambassadors.
LGFA CEO Helen O'Rourke commented: "As part of our ongoing efforts to mark Bliain na Gaeilge, we are gathering together 22 teams with Irish-speaking backgrounds. 
"This is another exciting initiative for our Association and we are very much looking forward to welcoming these young players to Croke Park. 
"For many, if not all, it will be their first time playing at the famous stadium and we may indeed see them grace Croke Park again in the years to come.
"I'd like to acknowledge the continued support of our championship sponsors, TG4, and wish the best of luck to each of the competing teams. 
"I'd also like to credit the outstanding work carried out by members of the LGFA development team in the organisation of this special day.
"The ongoing celebrations of Bliain na Gaeilge are very important to us and this unique event at Croke Park will celebrate the Irish language through the medium of Ladies Gaelic Football. 
"Our members can now also view our Official Guide 'as gaeilge' while the addition of 'Peil na mBan' to our existing logo has been warmly received on many levels.
"I hope that all mentors and players to enjoy this special day."  
TG4 Head of Sport Rónán Ó Coistealbha commented: "TG4 are very proud to be associated with this initiative with the LGFA. 
"2018 is Bliain na Gaeilge and next Monday is a fantastic opportunity for young girls representing Gaeltacht Clubs and schools from all over the country to grace the hallowed turf of Croke Park, speaking the Irish Language.
"We are proud of TG4's sponsorship and broadcasting of Ladies Gaelic Football since 2001 and we have another exciting year ahead of us with the upcoming Lidl League Finals and the TG4 Championships."
The clubs and schools taking part are as follows: 
Scoil Uí Ghramhnaigh (Meath)
An Spidéal (Galway)
Naomh Anna (Galway)
Scoil Neasáin (Dublin)
Corca Dhuibhne (Kerry)
Achill (Mayo)
Gleann Fhinne (Donegal)
Carna (Galway)
Bearna (Galway)
Gaeilscoil Cill Dara (Kildare)
Tuar Mhic Éadaigh (Mayo)
Mícheál Breathnach (Galway)
Daingean Uí Chuis (Kerry)
Naomh Columba (Donegal)
Baile Chláir na Gaillimhe (Galway)
Gaelscoil Cholmcille (Dublin)
Grainne Mhaoile (Galway)
An Cheathrú Rua (Galway)
Naomh Abán (Cork)
Caisleán Ghriaire (Kerry)
Most Read Stories