Ladies NFL Div 3: Royals rocked by Model County
March 26, 2018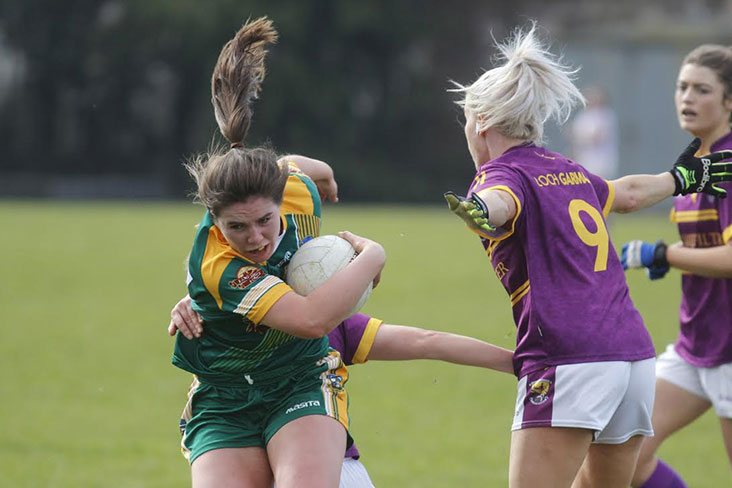 Shauna Ennis gains possession for Meath as Wexford's Bernie Breen closes in during the Ladies NFL Division 3 game in Enniscorthy
Wexford 3-12  Meath 2-6
Ah girls, what's the story! Actually the story is my job and the girls did the hard stuff, playing. But, in trying to parse this report I'm scratching my head a little. OK, let's go for a cliché, a game of two halves. The first half saw Royal ladies for the first twenty minutes at their impervious best. Slick moves, fast hands but the score board wasn't reflecting the dominance. Wexford were alive with hope.
Goals from Stacey Grimes and Vicky Wall along with points from Emma White and Aoibhin Cleary had Meath ahead to Wexford's two points. Solid defending by the Royal women at that stage frustrated Wexford into hasty shooting and all was going well. Sometimes things can go too well and that little edge can dull. A couple of misplaced passes allowed Wexford a toe hold. It's easy on the sideline watching those girls. They work so hard, are so honest that you only want the best for them.
But in seeking the best, those girls know that taking the wrong option can be costly. Unforced shots at goal when a recycle was an option, the Al Pacino "Any Given Sunday" diktat about those precious inches, "an inch too far ahead of you or an inch too far behind you makes the difference" and that sums up the last ten minutes of the first half. Wexford got an improbable goal and point. They went in at half time alive. Meath went in thinking.
The second half started in see saw fashion. Perhaps last weeks hard running game v Kildare was now coming home to roost on Royal bodies. Already missing Kate Byrne, Orlagh Lally, Katie Newe and Niamh O Sullivan from key positions and up against the divisions favorites, perhaps we expected too much. The space around Meath compressed and that same space seemed to widen for Wexford. But Meath defended brilliantly. Sarah Powderly made a number of blocks, Emma Troy threw her body across a rocket and Monica McGuirk stemmed a number of one on ones with Wexford forwards.
Then came a pivotal moment. A yellow against Meath would test them. Ten minutes to adjust minus a player. For eight of those minutes the Royal ladies held Wexford to three points but crucially scoring two points themselves. Then came the hammer blows, within those last two sin bin minutes, two goals were conceded. It was heart breaking after such hard work. Despite never throwing in the towel, those Royal girls don't know the meaning of the word, Wexford found a momentum that was going to be hard to stop.
Megan Thynne and Stacey Grimes swopping one twos with Vikki Wall, hinted at a come back but those elusive inches came back to haunt Meath, an inch too far forward, a tad behind the runner, sapped the spirit. Wexford had the bit between the teeth and their sail was in full tilt. A couple of long range right to left points stressed their by now superiority. No Meath head dropped, but the gap became insurmountable, sometimes you lose to a better team. Sunday was one of those days. There is no shame in that.
The only negative for the Royals was the loss. The positives outweigh the result. Reality checks perhaps, this League is no cake walk. The main target is in place, a league semi final spot. Today the girls met an experienced side that wasn't going to be intimidated by them. But, the Royal girls won't fear them next time out if they meet. Why? Facts really. Two open goals missed by Meath in the first ten minutes, 2- 3 conceded during the yellow card infraction. A miss placed pass that would have led to a Meath score was instead converted at the other end. On such inches rest results!
Remove the 2-3 yellow card minutes and perhaps the score would be tighter. But overall Wexford merited a win. Reflection on the journey home, despondency was absent. Meath lost a game they should and could have won. Lessons are learned and a key here is the management team. I was impressed with their calm, composure and analysis of proceedings. Missing key players allowed them to try new players and new tactics. Lessons are learned, noted for the next time. The main goals are in place and achievable. Why? A great group of fine footballers are in place who want it all. The marriage between management and players is a strong one.
Tonight each girl will ask themselves what did I do. What more could I have done, can I improve? Honest players come up with honest answers. All is well. Training Tuesday night, feed back, video analysis will iron out those inches, those kinks. Eamon Murray and his management outfit are already on the case. Stacey Grimes and Megan Thynne tracked back time and time again. Powderly, Troy, O'Shaughnessy fought to the last. Niamh Gallogly was everywhere, McGuirk was outstanding. Nobody hid but everyone has learned something new. All will be the better for it.
Meath scorers: S Grimes 1-2, V Wall 1-0, M Thynne 0-2, E White 0-1, A Cleary 0-1.
Meath: Monica McGuirk, Niamh Lister, Bláthnaid Keogh, Sarah Powderly, Michelle Peel, Emma Troy, Aoibhin Cleary, Maire O'Shaughnessy, Aoibheann Leahy, Megan Thynne, Emma White, Niamh Gallogly, Laura Dempsey, Vikki Wall, Stacey Grimes. Subs: Shauna Ennis for Keogh (inj), Marion Farrelly for Dempsey, Fiona O'Neill for Leahy, Karley Leavy for Lister, Orla Byrne for White.
Wexford: Mary Rose Kelly, Niamh Mernagh, Marie Byrne, Shauna Murphy, Ciara Donnelly, Roisin Murphy, Marguerite Doyle, Kellie Kearney, Bernie Breen, Niamh Moore, Catriona Murray, Niamh Butler, Chloe Foxe, Fiona Bennett, Fiona Rochford.
Referee: Stephen Nulty - Wicklow.
Most Read Stories