"It is shocking" - O'Neill fumes after captain sent off for not wearing a mouth guard
February 25, 2018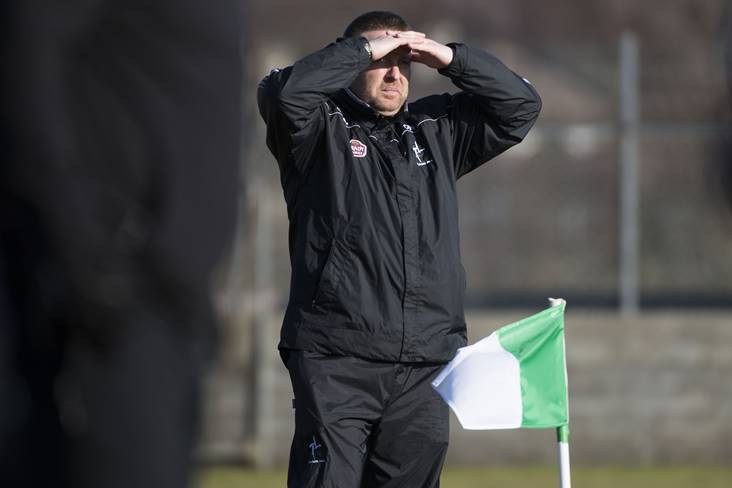 Kildare manager Cian O'Neill.
©INPHO/Evan Logan.
Kildare manager Cian O'Neill was left fuming after his captain Eoin Doyle was dismissed for not wearing a mouth guard in today's defeat to Donegal.
Referee David Gough came in for strong criticism from the Lilywhites boss following the two point defeat in the relegation battle at Ballyshannon.
Speaking to RTE Sport, O'Neill explained how the bizarre sending-off came about and pointed the finger of blame firmly in the direction of the referee and his match officials.
"When you think of the sequence of events and how it happened, it is shocking.
"To be fair, in the first instance, Eoin's mouthguard got knocked out when he hit a hard shoulder, so the referee gave him the opportunity to go to the sideline to get one.
"But he didn't stop the game and let everyone know. No more than a bloodsub or a black card, you don't restart the game until the player is off the pitch for treatment or gets carded.
"Eoin shouted over to us, 'lads, I need a mouthguard'. He was coming over to get a mouthguard and the linesman was well aware of that because he was right beside me.
"Our goalkeeper was unaware of it, because why would he know, the linesman said he didn't even know. The ball was kicked out and, since you were four years of age, if someone kicks a ball at you your natural reaction is to go for it. The ball was kicked to Eoin as he was coming off the pitch and he just caught it.
"The referee gave him a yellow card. I told the linesman to tell the referee he was coming to get his mouthguard but there was zero communication there. Which is not good practice in my mind there.
"To compound things then, the referee did not even realise he had given him a yellow card and allowed play to carry on. I mean, how many mistakes does it take to get things right? I don't know anymore.
"If you are going to ask a player to leave the pitch for any reason, then stop the play. Let him get off the pitch and then signal to the goalkeeper to restart the play."
Most Read Stories