Kerry midfielder Maher calls it a day
October 03, 2018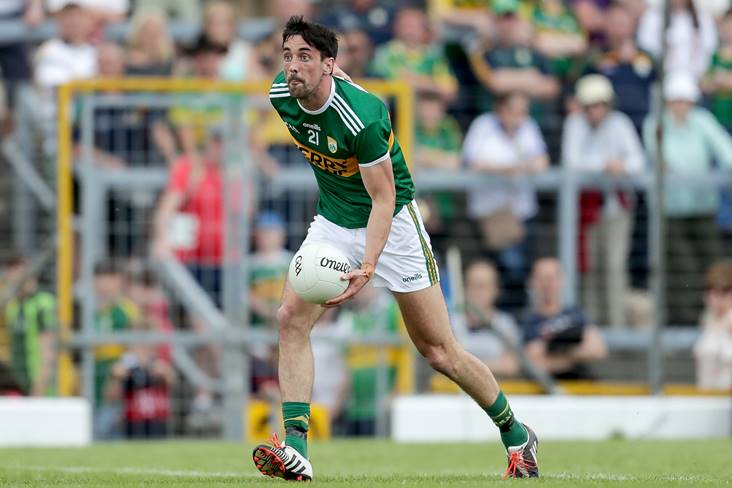 Kerry's Anthony Maher. ©INPHO/Laszlo Geczo.
Long-serving Kerry midfielder Anthony Maher has followed Kieran Donaghy and Donnchadh Walsh into inter-county retirement.
The two-time All-Ireland winner announced his decision in a statement issued via Kerry GAA today: "Since pulling on my first green and gold jersey back in 1999 for the primary game in Pairc Ui Chaoimh I've had the immense pleasure of representing my family, my parish and my county – now the time has come to call it a day.
"I'd firstly like to thank all my former team mates. While I am retiring from Kerry football with a heavy heart, I'm retiring with incredible memories. We've had highs and lows together but the bond developed throughout has been immeasurable. I look forward to watching and supporting as the current group continue to develop & grow, and return to glory once again.
"I'd also like to express my gratitude to all the management teams down throughout the years. Their commitment to the cause has always been second to none. I'm extremely grateful for the opportunity given to me first by Pat O'Shea, further developed and nurtured by Jack & Eamonn and their backroom teams. A special thanks to the team of medics and physios who have looked after me, especially in recent years. Also, to the County Board who have always been and continue to be a fantastic support to the entire team.
"To my club, Duagh – I thank all of the people who have invested in me and shown massive support to me throughout my entire footballing career. I hope I have done you all proud. The club is where it began for me and now I am really looking forward to the years ahead with Duagh.
"My parents and my sisters have always been incredible when it came to my footballing commitments. They've always supported me, right back to that first training session my dad brought me to in Duagh as a young boy. I don't think things looked too promising that day, but the encouragement began straight away and thankfully it paid off!
"All my extended family & friends – thanks for the never ending support and loyalty through thick and thin.
"To my wife Megan – the Limerick woman proudly sporting the green and gold since 2008! "Thank you for your constant love, support, belief and loyalty. I look forward to beginning the next chapter with you.
"And finally, the supporters. Thank you for always backing our team and I'm really looking forward to joining you in the stands in 2019.
"Ciarrai abu!"
Maher's former manager Eamonn Fitzmaurice dscribed the 2015 All-Star as the 'complete midfielder'. "During my time in charge Anthony was a hugely important member of our group, being our midfield anchor for much of that time," Fitzmaurice stated.
"His involvement in the recent past has been limited by debilitating injuries that he stubbornly defied to keep playing at the highest level.
"He was a leader in the dressing room often acting as a conduit to management. He was a complete midfielder, strong in the air, athletic, skilful, two footed and extremely hard working. He was exceptionally dedicated to his craft and worked tirelessly on his game.
Another ex-manager, Jack O'Connor, echoed those sentiments: "Anthony Maher was top class as a footballer and as a leader in the dressing room. He was a great team player and commanded a lot of respect when he spoke.
"He is a very intelligent man and he brought that with him on the football field. Anthony was very modest but a fierce competitor when it came down to a battle. It's a pity injury blighted the last couple of years of his career as he worked extremely hard to get himself right.
"His leadership and example will be a big loss to Kerry.
"I wish to congratulate Anthony on his career with Kerry and wish himself and Megan all the best for the future."
Most Read Stories