Fitzmaurice: Kerry fans expect All-Ireland every year
September 07, 2018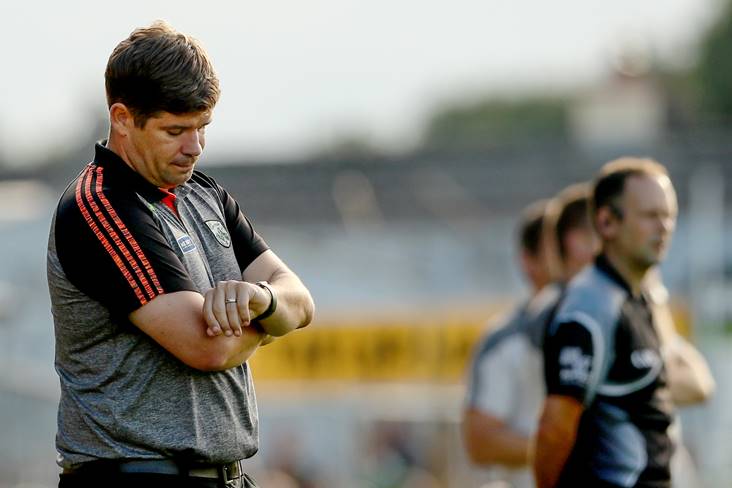 Eamonn Fitzmaurice during his time as Kerry manager.
©INPHO/James Crombie.
Eamonn Fitzmaurice has spoken about the high expectations of Kerry supporters and how anything less than winning the All-Ireland is deemed a failure.
Fitzmaurice stepped down as manager in the wake of the Kingdom's failure to progress from the Super 8s to the All-Ireland SFC semi-finals, having claimed he was a "lightning rod" for criticism from a section of the county's supporters.
"In Kerry, people expect a lot all the time ... It doesn't matter if you ask them to be patient, they want the All-Ireland, it's as simple as that. And if the All-Ireland isn't in Kerry then that year is a failure," he told former Kerry team-mate Dara Ó Cinnéide in an interview broadcast on RTÉ Raidió na Gaeltachta this week.

"But, I believe it can often take a few years to win the All-Ireland... You have the ups and downs, the tough lessons, the development ... and then when the day comes, they are all so valuable."
Speaking of the Kerry team's performance in the championship, he said: "I thought we were making great progress until the match against Galway. It's hard to explain it ... the preparation was done, we were very focused on the match, focused on playing against Galway's system... but just on the day they didn't play and we didn't play.
"It's hard to explain it. So was this year a failure? Well we won the Munster Championship ... I consider it a failure if you haven't fulfilled your potential."

Speaking about the decision to leave, Fitzmaurice said that above all the important thing for him was Kerry, and that if anything got in the way of that that it had to go, in this case himself.

"For me, the most important thing is always Kerry. That's how it has always been for me selecting the team, the panels, because when I started I had friends on the panel ... but Kerry always has to come first, that's bigger than any one person. And then if the energy is working against the group, then you have to understand that, and to remove yourself from the equation."

"You also need an incredible amount of energy for the job. It's a full-time job. I'm not in favour of professionalising it, that's another discussion, but the only way I could do more in the job is if it were full time ... meeting each player regularly, meeting management, and education... You can still do it (without being full time), but only if everything is going your way, with a great team, a great panel."
The Finuge man also spoke about the negativity after the Galway defeat, and in particular how he feared it might affect the young players.
"I remember a few years ago, we had lost four games in a row in the league. One of them was in Ballybofey in Donegal, and there was snow in the air, and when we came out of the match the supporters were there waiting for us, and they clapped each of the players onto the bus. I'll never forget that, and I was ashamed. Those people were giving us great support, and we were giving them nothing back that day.

"I've had great support for myself, and for the team, but there are other people and I think they'll never be happy. What upsets me was this year, and we had a young team and panel, and it was a great thing for those young lads to be part of. Watching them, they were brilliant and they'd give anyone a boost. But I felt, after the match with Galway, there was a lot of negativity. I didn't really notice at first, but then it started leaking into the camp, and in my direction. People were saying to me, did you hear what this person said and so on.
"I didn't think that was good for the young players who are doing their best to improve and move forward. And because I had been there for a good few years, and we hadn't won the All-Ireland in four years, I got a lot of criticism for that. I understand that, that doesn't bother me, that's part of the job.
"That criticism is never as bad as our own criticism (of ourselves), particularly within the management. But it wasn't right, and I wasn't happy with it. We have to get better on that as a county, look at Monaghan, they are always behind their team."
Most Read Stories