Handball: Gregan on the comeback trail
October 20, 2015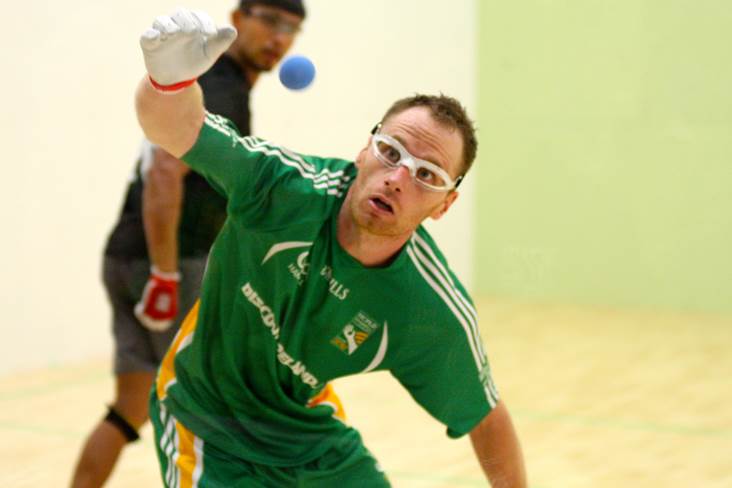 Michael Gregan
Remember Michael Gregan? Well he's back after a lengthy injury layoff and he is hungrier than ever for the game!
It has been two and a half years since the Wicklow man last played in a competitive Handball match, a Last 16 showdown with Antrim's Owen McKenna in the All-Ireland 40x20 Championships back in 2013, when he was #3 in the Irish Rankings.
But after a long and arduous time out with back problems, Gregan eventually started to see light at the end of the tunnel last April when he underwent successful Lumbar Decompression Discectomy surgery. In lay mans terms, this essentially means he got a piece of bone chipped off his lumbar spine in order to relieve constant pressure he was experiencing.
Three months of rest followed, but now he is back playing Handball again, and loving it!
"I feel at 90% of full health and have been training hard for the last six weeks. I do still require physio twice a week, but fitness wise I'm not too bad."
"I have never carried much weight so gaining fitness again won't be an issue. I'm confident in saying I'm playing as well as I was playing (Handball wise) three years ago when I got hurt. I still believe I am just as fast as I was. Before my injury." 
The Coolboy clubman is not exactly easing himself gently back into the game. Instead he is throwing himself right in at the deep end by competing in this weeks US Open in California. His last appearance in the tournament was in 2012 when he actually lost out in the Open Doubles Final with partner Ger Coonan. He renews his partnership with the Tipperary man this year, and will also compete in the Open Singles.
Given he has only pushed himself to three games a week since his comeback, combining both events is a daunting prospect.
"My tournament fitness will be really tested this week. I am able to play three games a week. Twice a day however is an unknown to me at the minute. I'm both excited and nervous about playing my first tournament back."
His time out of the game means he will come in under the radar, with no seeding.  But if Gregan is confident his game is in decent shape, then one thing for sure is that he will be a banana skin of a first round draw for any seeded player. His style is very attacking, all go, and slow play doesn't feature in his tactics at all. One should expect one hell of a battle against the extremely competitive Gregan. 
"I hate losing! I just have to win everything I do, its ingrained into me. I'm going to go in and try to beat whoever is put in front of me. I want to see how far off I am to the top guys."
This week's tournament is only the first of many tournaments Gregan plans to attend as his comeback gathers pace, as he states he plans to go to as many as possible, both in Ireland & America.
"I have really missed Handball! I missed going to the Worlds. I came home every evening from work and switched on the webcast to see the boys playing. It made me sick not being there!"
But like all Irish players, the 32 year olds key aim is to be right in the mix of things come the All-Ireland's.
"I honestly think that come the All-Ireland's that I will be a contender! That's my main goal to be up there challenging for the title with the likes of McCarthy, Nash & Shanks."
Follow Michael's and other Irish players progress at the US Open on GAAHandball.ie, and their Facebook & Twitter pages. Action starts on Thursday.
Most Read Stories