Diarmaid Nash - it's titles I want!
October 19, 2015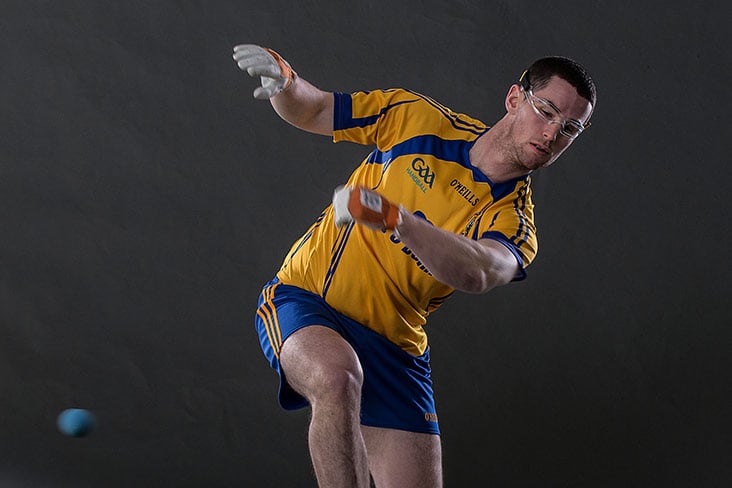 Clare's Diarmaid Nash
Over the last two years, Clare's Diarmaid Nash has established himself as one of Ireland's best and most consistent handballers.
At August's World Championships in Calgary he announced himself as one of the big players on the international stage by winning the Men's Open Doubles Title with Westmeath's Robbie McCarthy.
That was Nash's first major international honour at Open level, but the Tuamgraney left-hander is not dwelling on his latest success as he gave a refreshingly honest interview with GAAHandball.ie.
"It was nice for a few weeks there, but the reality was that I went out to win the singles and was disappointed to have lost in the SF's."
Nash's blunt assessment aside, it is a coveted medal, and one that not many players can boast of winning, a medal that he admits may only fully sink in when he hangs up his gloves.
Diarmaid of course played his part as Ireland claimed an unprecedented clean sweep of the Men's & Ladies Open Singles & Doubles grades t the 2015 World Championships, in what was a truly remarkable performance from the Irish elite. When asked what he felt was the defining reason of why Irish Handball is riding so high at present, Nash had huge admiration for the structures in Ireland which he feels has lead to the success.
"The work that's gone in at grass roots level, its crazy good!"
"You look at Germany who won the World Cup there in soccer last year, and their success was maybe 10 years in the making where they had very good underage systems. They keep bringing strong players through that eventually leads to these players breaking through and things happen for you at senior level."
I think it's the same way for Ireland in Handball. Not everyone will make it through to senior level but those that do will be battle hardened. Back 10-15 years ago the Americans were dominating the junior grades at Nationals & World Championships, but now the Irish juveniles are leading the chase."
There are of course other factors, and the 24 year old spoke highly of a quartet of Irish players who came through in the early 2000's and set the standard for others to reach; Paul Brady ("who is a phenomenal athlete"), Tony Healy, Eoin Kennedy & Ricky McCann.
Nash is currently in California preparing for the US Open where he will again team up with McCarthy in the Doubles, with the pairing likely to have a high seeding due to their success in Calgary.
"Robbie is a great partner to have. Even if he is playing badly he is still probably playing as good as everyone on the court he is that good."
We are going at it again in the US Open and if we combine as well as we did during the worlds then we will have a really good chance. I wouldn't say we have a telepathic understanding, but when we go on court we are confident in our partnership."
He did however fail to confirm whether or not this is a partnership Handball fans across the world will be seeing more off in the coming years, stating they will just take it one tournament at a time, but if success becomes regular, one would think it's a no-brainer to not change a winning formula.
At this year's US Open, players will be allowed to enter both the Singles & Doubles grade, to celebrate the 25th anniversary of the tournament, whereas previously players had to dedicate themselves to one or the other. This will see an increase in quality of the Doubles draw, but Nash still insists that the singles is priority number one.
"We are individual athletes so we want to win the singles, that's the title to win. But that doesn't mean you go soft in doubles, you still go hard every time you play. If you relax too much you can get caught no matter how good you are."
This years format does however mean winning will be a lot tougher on the body, with all the big names expected to play in both singles and doubles grades. This is not a concern for 'D', who admits to secretly liking the tournament setting.
"It can come down to a mental battle between you and your opponent. How much are you willing to grind it out and drive through the pain barrier. I love that challenge."
There is of course substance to his claims, as he has proven time and time again that he is an excellent tournament player, reaching the last 5 consecutive weekend ranking tournaments in Ireland.  This excludes the All-Ireland Championship, which is run on a one game per weekend basis, although he did reach the 2014 All-Ireland Final as well.
"Generally I like the tournament more than the Championship. I find myself getting sharper with each round in the tournament. Some players prefer to play one game then go off and relax. But I like to train with a specific weekend in mind so I can peak for that weekend. Tournaments seem to suit me more, fitness wise."
In California, should any player reach both singles and doubles final, they would have to win 5 games of singles and 4 games of doubles, all in the space of four days. A grueling prospect indeed, one that is rarely found at other elite sporting events, which only adds to the admiration Handball fans have of the elite players in the game. Such a grueling prospect does not however faze Nash one bit!
"It will be sore on the body don't get me wrong, but at the end of the day we should be used to it by now. Everyone is used to playing tournaments so it is not a shock to the system."
The US Open is the first 40x20 event of the season for Ireland's elite players, before the Golden Gloves & Gaffney Memorial quickly come around again. When asked what is the goal going forward in 2016 for Diarmaid Nash, there wasn't even one second of a delay in his blunt response.
"Win the Irish Championships! I would love to win one! Rankings can go up and down, but it's titles I'm after!"
Most Read Stories