Eighth Ulster GAA Writers award for Brady
September 10, 2015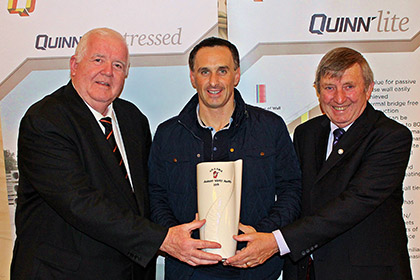 Quinn Building Products' Jerome Maguire, right, and UGAAWA
Vice-Chairman JP Graham present five-times World Handball Champion
Paul Brady with the Monthly Merit Award for August
Record-breaking handballer Paul Brady has added another gong to his long list of illustrious achievements by topping the Quinn Building Products Ulster GAA Writers all-time monthly awards list.
The Mullahoran man clinched the World Singles title last month for the fifth time in a row last month, capping 15 years of domination on the court. For his efforts in Canada, the Ulster GAA Writers have honoured Brady with his EIGHTH monthly award.
That puts Brady on top of the Writers' roll of honour, with his first award coming all the way back in December 1998.
"It is great to be recognised personally, with so much activity during the month of August. It is a great honour to receive this monthly Merit Award again, and I am very thankful. All awards are gratefully accepted," he stressed.
There was a lot for the Ulster GAA Writers to ponder when considering the winner of the Quinn Products Merit Award for August, with high powered events taking place over the entire range of GAA activities, stretching from World Handball Championships to local club
championships covering all codes.
The list had to be narrowed down and it was the names of Brady, Darren McCurry, Aisling Reilly and Aimee Macken that were left standing. McCurry starred with Tyrone footballers, Macken did the same with Armagh ladies and Reilly retained the Ladies' Open Handball title and also won the Doubles, however the Writers sided with the Mullahoran maestro.
As his award, Brady receives an engraved Belleek Living vase, training gear from O'Neill's International Sports, specially designed silver cuff links from Carlingford Design House and a deluxe medical kit bag from 3FiveTwo Group.
He will also receive two tickets and overnight accommodation for the UGAAWA Banquet, on Friday, November 13, at the Great Northern Hotel, Bundoran.
Most Read Stories