Kildare need to be careful, says Ó Sé
July 07, 2018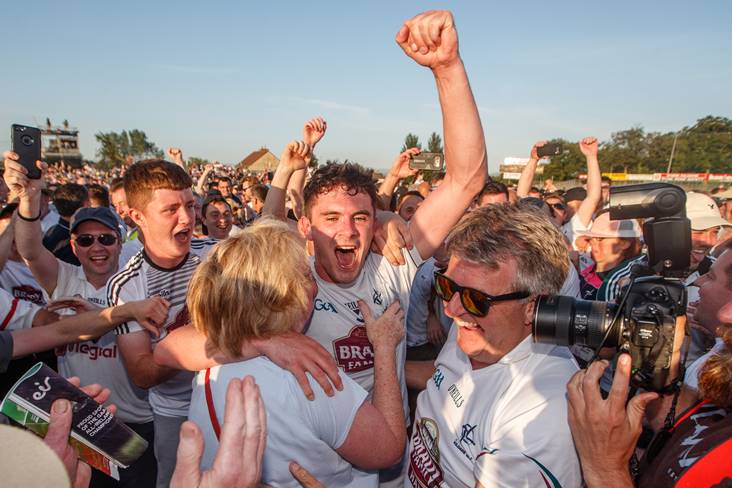 Kildare's David Hyland celebrates with his mother Maire after his side's All-Ireland SFC qualifiers round 3 victory over Mayo at St Conleth's Park, Newbridge.
©INPHO/James Crombie.
Tomás Ó Sé says Kildare's fantastic win over Mayo will count for nothing if they don't beat Fermanagh this evening and reach the Super 8s.
The Kerry legend is full of praise for Cian O'Neill's men and the stand they took against the GAA over the venue for the last Saturday's game in his Irish Independent column, but believes Fermanagh could make life very difficult for them in Navan this evening.
"As (Cian) O'Neill said afterwards, they've got to back it up now. Fermanagh simply have to be beaten," he writes.
"After what was looking a disastrous season for them, Kildare are now one game from the Super 8s. But bear this in mind. Fermanagh beat Monaghan and Armagh in the Ulster championship. They'll make life really awkward for Kildare now.
"And my criticism of O'Neill's men was that, up to now, when somebody made things awkward for them, they had a habit of folding.
"So they need to be careful. I'd imagine they'll be looking closely at what Donegal did in the Ulster final as a template to follow here. My opinion is that Donegal could have won that game by an even bigger margin if they pushed up further. But Kildare need to be under no illusions here either, Fermanagh will see them as inferior to Donegal and give themselves a right chance of rattling their cage here.
"So this will be a dogfight. But these ultra-defensive systems are in themselves an admission of inferiority. They're a way of saying, 'We're afraid to take you on, man-on-man.'
"Fermanagh won't progress any further in this championship unless they increase their attacking threat. As things stand, they depend on drawing panic from the opposition. And panic is the biggest enemy for Kildare now.
"Because at some point this week a penny will have dropped. It'll seem that everybody's on their side right now but, lose to Fermanagh, and every ounce of that goodwill will disappear. Do they really want people saying, 'What did you expect?'
"Look Kildare have the raw ingredients to mow down Fermanagh. Their work-rate against Mayo was phenomenal and I think that's a point that was slightly missed after. You can play any system you want, but work-rate so often makes the difference.
"A repeat of that this evening and I think they'll make the Super 8s. So my love-hate relationship with them continues. Let's see how they follow-up what we saw in Newbridge. Let's see them be the next team to put a nail in the coffin of these ultra-defensive systems."
Most Read Stories