What they said … the weekend in quotes
April 09, 2018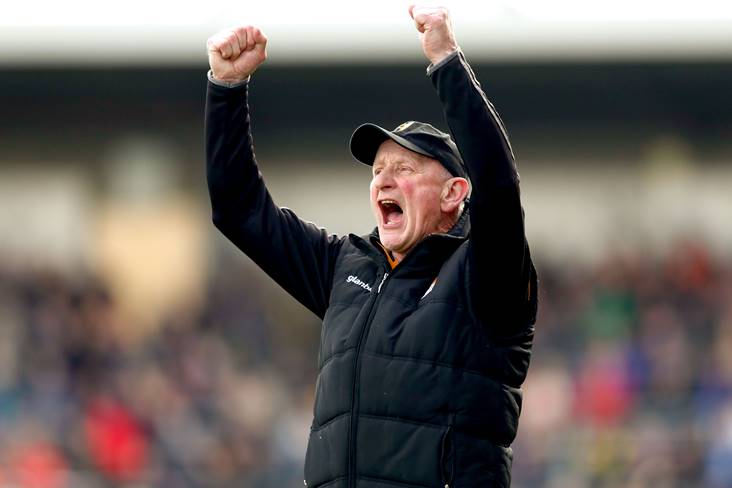 Kilkenny manager Brian Cody celebrates his side's second goal during their Allianz HL Division 1 final victory over Tipperary at Nowlan Park.
©INPHO/James Crombie.
"With all due respect to everyone, it doesn't ever concern me what anyone's opinion is about Kilkenny. I think we look after the thing ourselves in our own place, and everyone has an opinion. The great thing about everyone's opinion is that it can change today, whereas our opinion is tested the whole time and you have to deliver on it."
Brian Cody answered his critics in the best possible fashion when guiding the Cats to a 20th national title on his watch.
"It's nothing like last year, last year was a 'non-turn-up.' I just felt we were within ourselves and we weren't showing enough urgency to face what I knew was going to come which was a Kilkenny attack. They had all the intensity, we didn't."
It was a second league final defeat in-a-row for Tipperary and Michael Ryan.
"A few words said at half-time and we came out a better team. It was a massive game for us and a massive win. A league final at home in Nowlan Park against our rivals Tipperary, It couldn't get any sweeter."
TJ Reid delivered yet again for the Black and Ambers with a personal return of 0-15.

"I didn't do a whole lot in the first half, I knew I had to do something special or I could have been getting the curly finger!"
The second-half was only 30 seconds old when Walter Walsh pounced for his decisive goal.
"It's brilliant, it gives the players an extra lift; it brings a little more professionalism to it and the girls deserve it. Perception is reality, people watching at home, you see bums on seats. People who haven't been exposed to it are always pleasantly surprised; the skill level is so high."
The camogie final between Kilkenny and Cork shared the Nowlan Park stage with their hurling counterparts and former Galway camogie star Aislinn Connolly welcomed the double-header initiative.
"I just felt that Ray felt he should bring Cork back into it with some of the frees that were given. And it was the same in the second half. I think if you look back at the video, certainly the goal they got was an over carry. I think camogie has to look at that and see what's happening. I was disappointed with Ray today and there's no point in me saying otherwise, I was."
Despite leading her team to a third Camogie League Division 1 title success in-a-row, Kilkenny manager Ann Downey wasn't happy with the performance of referee Ray Kelly.

"Our first half display was totally off the mark, it was quite embarrassing to be honest. I think we just left them too far ahead into the game and there was too much to fight for in the second half. But then again, coming within a point asks a lot of questions about both squads - not just ourselves - we're fairly happy with the way we fought back in the second half."
Aisling Thompson and Cork produced a strong second-half showing but had left themselves with too big a mountain to climb.
Most Read Stories