Wells won't be following in Foster's footsteps
July 07, 2018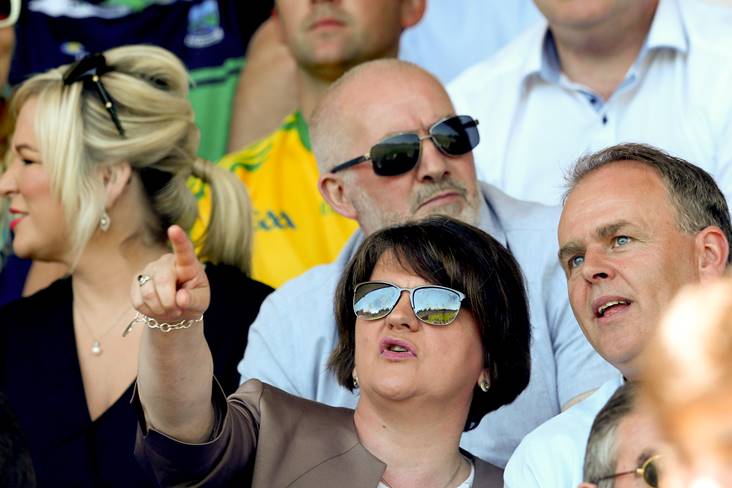 DUP leader Arlene Foster attends the Ulster SFC final between Donegal and Fermanagh at St Tiernach's Park, Clones.
©INPHO/James Crombie.
The DUP's Jim Wells won't be following the lead of his party leader Arlene Foster by attending a GAA game.
The South Down MLA says the GAA has too much "political baggage" for his liking to bring himself to attending one of its games.
"I have been the MLA for South Down for 24 years, I could paper the walls with the number of invitations I have had to attend various GAA events throughout South Down and I have politely on every occasion declined those options. That will be my policy for the rest of my career," Wells said in an interview with Q Radio.
"The GAA could do very much more to create a shared society. The GAA is a 32-county political movement. Item one of its constitution is the reunification of Ireland. They name trophies after terrorists. If the GAA was simply a sporting event there would be no issue - although I wouldn't have gone on a Sunday to be honest.
"The GAA is much more than a sporting body - it is a body which has political baggage."
Mr Wells added that he has yet to meet a Protestant with an interest in the GAA.
"I believe the vast majority of my voters, the unionist voters of South Down, really haven't much time for the GAA because of its political baggage. The political baggage makes it a very dark place for the Protestant community and they need to deal with that before it can be embraced by the entire community," he said.
Most Read Stories