Ladies All-Stars: Dubs dominate as Cora equals record
November 26, 2017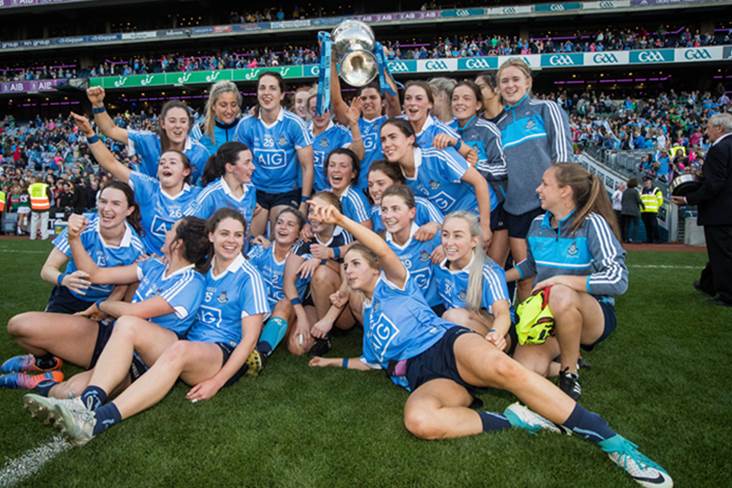 Dublin players celebrate with the Brendan Martin Cup.
©INPHO/Ryan Byrne.
All-Ireland champions Dublin picked up six All-Stars at last night's TG4 Ladies Football awards ceremony in the CityWest Hotel.
Catpain Sinead Aherne, who received a sixth award, is joined on the team by fellow Jackies Ciara Trant, Rachel Ruddy, Leah Caffrey, Nicole Owens and Noelle Healy. Healy was also named as the 2017 TG4 senior Players' Player of the Year to crown a brilliant season for the St. Brigid's player.
Meanwhile, Mayo legend Cora Staunton collected an 11th award to draw level with Kerry's Mary Jo Curran at the top of the roll of honour. Mayo, who were runners-up to Dublin, is also represented on the team by Sarah Tierney and Aileen Gilroy.
The Hegarty sisters from Donegal, Ciara and Niamh, also claimed awards, while Kerry's Caroline Kelly and Lorraine Scanlon were among nine first-time winners. Emma Spillane from Cork and Armagh's Aimee Macken complete the line-up. 
The TG4 intermediate Players' Player of the Year award went to Tipperary's Aisling McCarthy, while Derry's Emma Doherty received  the TG4 junior Players' Player of the Year award.
It was also announced that Bangkok is the destination for the 2018 TG4 All-Star tour, which will take place on March 13-21, and will incorporate an exhibition match on St. Patrick's Day, March 17.
2017 TG4 Ladies Football All-Star team:
1.    Ciara Trant (Dublin) - 1st award
2.    Emma Spillane (Cork) - 1st award
3.    Sarah Tierney (Mayo) - 1st award
4.    Rachel Ruddy (Dublin) - 2nd award
5.    Caroline Kelly (Kerry) - 1st award
6.    Ciara Hegarty (Donegal) - 1st award
7.    Leah Caffrey (Dublin) - 2nd award
8.    Lorraine Scanlon (Kerry) - 1st award
9.    Aileen Gilroy (Mayo) - 1st award
10. Aimee Mackin (Armagh) - 2nd award
11. Niamh Hegarty (Donegal) - 1st award
12. Nicole Owens (Dublin) - 1st award
13. Sinéad Aherne (Dublin) - 6th award
14. Cora Staunton (Mayo) - 11th award
15. Noelle Healy (Dublin) - 3rd award 
Most Read Stories