GAA confirms dressing rooms and gyms to remain closed after July 20
July 14, 2020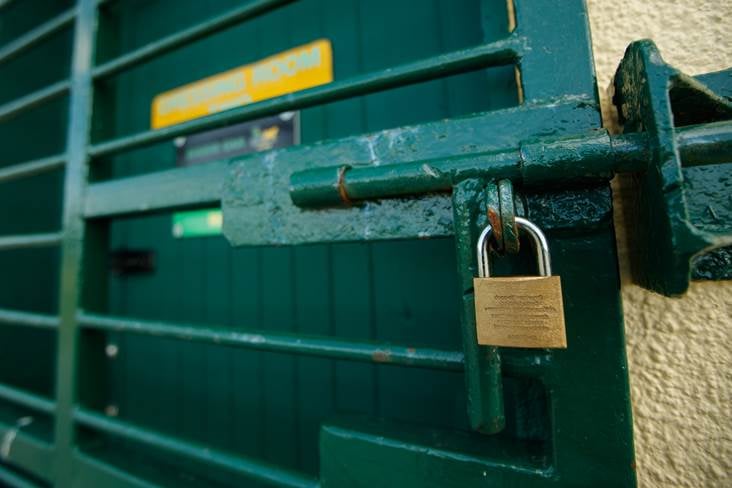 The dressing rooms locked at Fr. Dowling Park, Rhode GAA, Co. Offaly ©INPHO/James Crombie
The GAA has confirmed this morning that all dressing rooms, club and county gyms will not be allowed to open until further notice.
It comes after yesterday's meeting of the GAA's Covid Advisory Group, where it was agreed on a risk stratification basis that the above facilities should remain closed after July 20.
Handball alleys are allowed to re-open from next Monday while club bars that do not serve food are also permitted to open up again provided they follow government regulations.
Feargal McGill, GAA Director of Player, Club, and Games Administration, gave an outline as to the reasons why dressing rooms and gym facilities within the Association are to remain closed.
"One of the key parts of our control measures around keeping clubs safe is trying to keep players outdoors as much as possible," McGill explained.
"The reason for that is you are 19 times more likely to contract the virus indoors than you are outdoors. Purely from a common sense basis it doesn't make any sense for the GAA to open dressing rooms or gyms at this stage.
"The other reason it lessens massively the possibility of a player being considered a close contact.
"If they have only been undertaking activities that are outdoors it lessens massively a player being considered a close contact if one of his teammates or one of the backroom personnel happens to test positive."
Most Read Stories