Financial meltdown in AFL could see recruiting of Irish players cease
April 07, 2020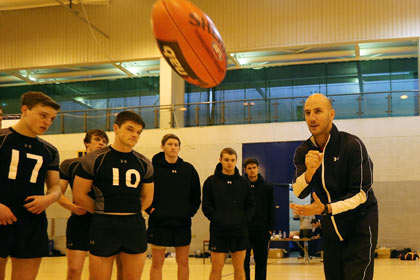 Tadgh Kennelly demonstrates the perfect pass at the AFL International Combine Trials in DCU. INPHO
Recruiters for the AFL believe that Australian clubs won't 'go near Irish players for a while.'
With the AFL season suspended after one round due to Covid-19, the 18 professional clubs have taken a huge financial hit with wage cuts implemented across the board. Talk of clubs having to merge or go out of business have been dismissed but the AFL had to secure a $600m loan facility in recent days to ensure credit was available to its clubs.
It is feared it could be August before the season resumes and there is a possibility that amid huge cost cutting, players rosters will be cut and recruitment scaled back.
Recruiting of foreign based players, such as Gaelic footballers from Ireland, is far more expensive than adding young Australian talent to a club's roster.
Fox Sports is reporting that a number of recruiters feel that the scale of cutbacks coming down the road mean that bringing over Irish players will not be an option in the near future: "One AFL club national recruiting boss told foxsports.com.au that he doesn't think anyone will go near Irish players for a while because no one will be able to afford them... and he wasn't the only recruiter to express this opinion."
Most Read Stories