O'Neill responds to Mulligan's criticism
June 12, 2019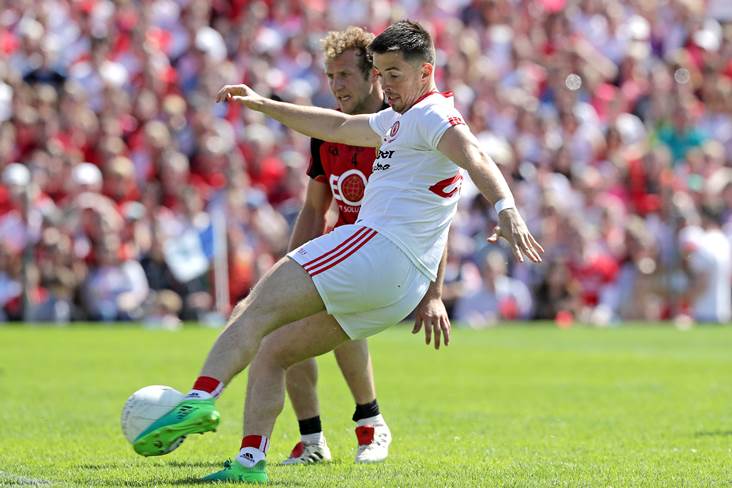 Tyrone's Ronan O'Neill scores a goal against Down.
©INPHO/Morgan Treacy.
Former Tyrone forward Ronan O'Neill has taken exception to Owen Mulligan's claim that he should have stayed and fought for a place on Tyrone's starting 15.
In a Paddy Power News article last month, three-time All-Ireland winner 'Mugsy' accused O'Neill and fellow forward Lee Brennan of taking the easy option by quitting the Red Hand panel after their league campaign had concluded.
"Some might say that Harte's system did not suit the likes of Ronan O'Neill, Brennan and even Darren McCurry last year," Mulligan wrote.
"But bottom line is, when given your chance by Harte you have to take it. It is easy to throw your head up and walk away. How about stay and fight for the starting jersey?"
Omagh St Enda's clubman O'Neill was a guest on Off The Ball's AM show yesterday morning and he availed of the opportunity to reply: "Owen Mulligan is now a very passionate Tyrone supporter but my response to that would be, does he not think we've done that enough?
"I felt that I had done that enough. I sat there trying to prove my worth.
"I had pushed myself to the limit trying to get in, but sometimes you've just got to look at the bigger picture.
"That's his opinion, that he thought we should have stayed and fought for the jersey, but I thought I'd done enough over the last couple of years to prove my worth."
Most Read Stories