Mayo PRO hits back at critics
December 11, 2017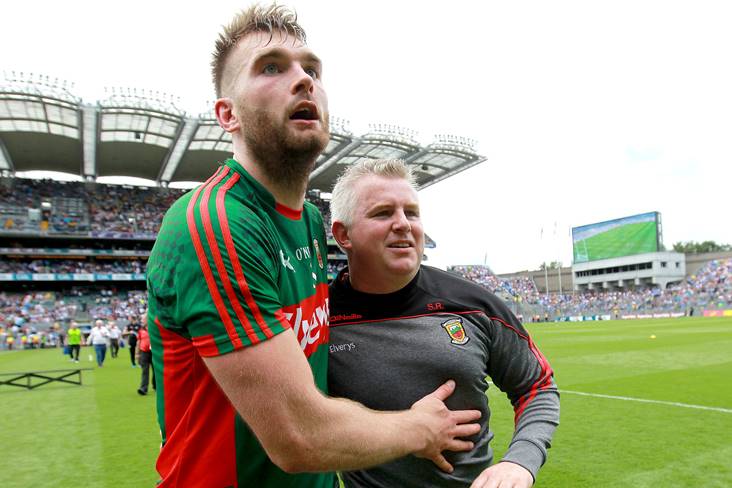 Mayo's Aidan O'Shea and Stephen Rochford celebrate.
©INPHO/Lorraine O'Sullivan.
A top Mayo GAA official has described the criticism levelled at Aidan O'Shea and Stephen Rochford by Bernard Flynn and Eamonn Sweeney this year as 'unacceptable'.
Meath legend Flynn criticised O'Shea for taking selfies with young supporters while his team-mates warmed down after a pre-championship SF challenge between Mayo and Meath in Mullingar, while Sweeney wrote a scathing article about Stephen Rochford and his management team in the Irish Independent in the wake of Mayo's drawn All-Ireland SFC semi-final against Kerry. 
"They say all publicity is good publicity but that is not always something I would agree with. In 2017, this group of players and management were subjected to the kind of criticism that is totally unwarranted and unacceptable," Mayo PRO Paul Cunnane wrote in his report to yesterday's county convention. 
"Constructive criticism is all part and parcel of life which I totally accept. What I don't accept is the nonsense Bernard Flynn came out with about Aidan O'Shea, who had the audacity to get photos with local kids after a challenge game in April. Maybe Bernard was the one who wanted to be in the selfies!"
Cunnane continued: "Eamonn Sweeney in the Irish Independent also took match reports to a new low with their shameful criticism of Stephen Rochford and the management team with their 'Lions led by Donkeys' headline.
"To see the headline written the morning after the game is totally inappropriate and something that shouldn't happen within GAA coverage.
"Stephen Rochford, Aidan O'Shea along with the players, management with officials put their lives on hold for the good of Mayo GAA and do not deserve to see this kind of 'analysis' printed in papers or reported online.
"It's easy to have a cut at Mayo because they haven't won an All-Ireland, but it would be a very different summer landscape if Mayo weren't competing at the final stages of the championship and I would hope the analysis and comment around this team and group of players would be a lot more constructive in 2018."
Most Read Stories