Galway selector well versed on Treaty dangers
August 14, 2018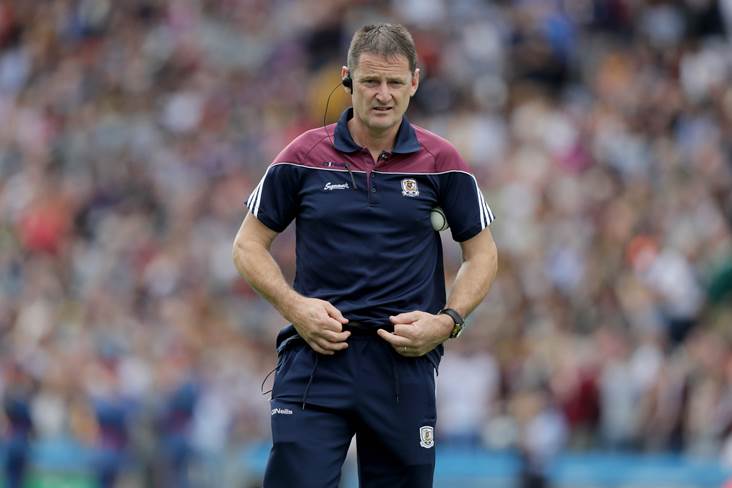 Galway selector Noel Larkin.
©INPHO/Morgan Treacy.
by Declan Rooney
Galway selector Noel Larkin hopes that their national league defeat to Limerick will have no effect on his side as they seek to claim back-to-back All-Ireland titles for the second time in their history.
Galway and Limerick will face off for the Liam MacCarthy Cup this Sunday in the third decider between the two counties 38 years on from the last, but Larkin aims to see no repeat of his side's second-half collapse against Limerick that cost them promotion to the top flight.
Galway were eight points ahead of Limerick in March at Pearse Stadium, but at an early stage in their training Micheál Donoghue's side ran out of ideas and energy as Limerick out fought their hosts to win.
In their last three championship games Galway have also faded away in the second-half after bright openings, but Larkin just hopes they will hold the upperhand against Limerick in the end up.
"We saw them first hand in the league in Pearse Stadium. It's common knowledge we were six of seven points up that day and they came back and pipped us at the post at the end," said Larkin.
"Now we can put it down to training: they were a bit ahead of us, but the fact remains they have been ear marked from early in the year as one of the contenders and it is no surprise they are in the final.
"I won't say it was a shock obviously you are disappointed any time you lose a seven or eight point lead at home.
"It was very disappointing, we always stress the importance of trying to get out of 1B and Limerick knocked that on the head. We seen them up close that day and they are a serious outfit.
"If anything it might give us a bit of an extra spurt to try and draw the series 1-1 as they say we will see as it goes."
Like last year Galway played their league hurling in Division 1B, and Larkin believes that the chance to ease into their season has benefited the team. In 2017 Galway won the league title and went on an unbeaten run after they lost to Wexford in the spring.
As All-Ireland champions there was extended winter celebrations and team holidays to account for so Galway's preparations were not as advanced as previous years, but Larkin thinks it was a good thing in the long run.
"The games in 1A were ultra competitive and no matter what hurling you are playing you want to win every game.
"Even though you might not be in peak physical condition your mindset takes over and you want to win so it was no harm we were away from the limelight for a while while we were trying to get our fitness.
"It wasn't meant to be but I think they [Limerick] have only lost one competitive game this year which is a testament to them and they took Tipperary to extra time in the league so I think the Clare game was the only defeat they had all year.
"We were always confident that we were behind and knew we'd get it right in the end.
"The fact that we have the experience of last year definitely makes a massive difference. Two weeks is probably not enough time if it was a case where we hadn't got last year's experience so everything is nearly done now, so it's just a matter of waiting on the game to come around now."
While Gearoid McInerney and John Hanbury were injury concerns following their semi-final win over Clare, Larkin is confident that they will both play their part this weekend.
After a long season that has seen Galway play eight championship matches despite the direct rout to the semi-finals provided by their Leinster final win over Kilkenny, all of the lead up to the decider has been taken up with fine tuning and a brief focus on their opponents.
"The fact that's its two weeks we are not getting a lot of time to analyse them they way we would have on previous opposition.
"The structure of the championship this year you are playing different opposition every week or two weeks so there isn't time which might not be a bad thing because the focus has to be on you and what you are trying to do so it might not be a bad thing in hindsight.
"Everyone wants to be involved in the biggest day of the year. The semi finals are for getting over the line and getting to the final and once you are there, it's not that you take the foot off the gas but everything is done and its a matter of fine tuning and putting the plan in place for the opposition and hopefully roll it out on the day and it works."
Most Read Stories