McCaffrey and O'Hanlon to discuss sport as a tool for empathy during COVID-19 Pandemic
May 27, 2020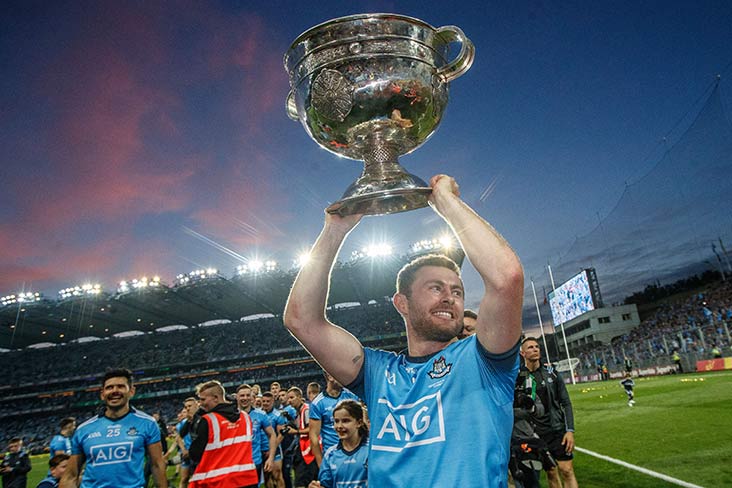 Dublin's Jack McCaffrey celebrates with the Sam Maguire Cup
UNESCO Chairs at NUI Galway and Penn State will present a live discussion with representatives of Barça Foundation and the GAA to explore sport's role as a tool for good in supporting society and the development of life skills such as empathy and identity during Covid-19. Armagh Footballer Caroline O' Hanlon and Dublin Footballer Jack McCaffrey will provide the players' perspective in an event that will share stories of humanity and community engagement as well as exploring the future connections needed to cope through sport beyond the first wave of the coronavirus crisis. The event is free to all and can be viewed at 6pm on Thursday, 28 May at NUI Galway's Facebook page - facebook.com/nuigalway
Both Barça Foundation and the GAA have been active in supporting communities during the current pandemic. A recent survey of GAA clubs found that approximately 19,000 GAA volunteers had supported approximately 35,000 people in local communities through activities such as collection and delivery of essentials, sharing public health information and meal delivery. Yolanda Antin, Partnerships Coordinator, Barça Foundation and Colin Regan, GAA Community and Health Manager will outline their activities, joined by Kalyn McDonough, University of Delaware.
Speaking today, Professor Pat Dolan, UNESCO Chair for Youth Civic Engagement at NUI Galway said: "The value of sport as a tool to learn empathy is often overlooked but should never be underestimated. Through participation in sport we create relationships with others and by learning from the joy of winning and upset at losing we create a capacity to understand what others feel because we have felt it. The highs and lows of sport mirror life, and by bringing this understanding into our lives, we develop our capacity to show empathy to others."
The event is part of a series of 12 weekly virtual conversations hosted by the Institute for Lifecourse and Society at NUI Galway and UNESCO Chairs for Children, Youth, and Communities at NUI Galway and Penn State University. Each week these Facebook live events (at 6pm Thursdays) bring together the views of academics, policymakers and most importantly citizens directly affected by coronavirus. This includes a focus on kernel issues for children and youth, parents, older people, families and people living with a disability. It is hoped the conversations will assist greater human empathy human understanding and compassion.
Most Read Stories