Connolly shows his class
July 21, 2019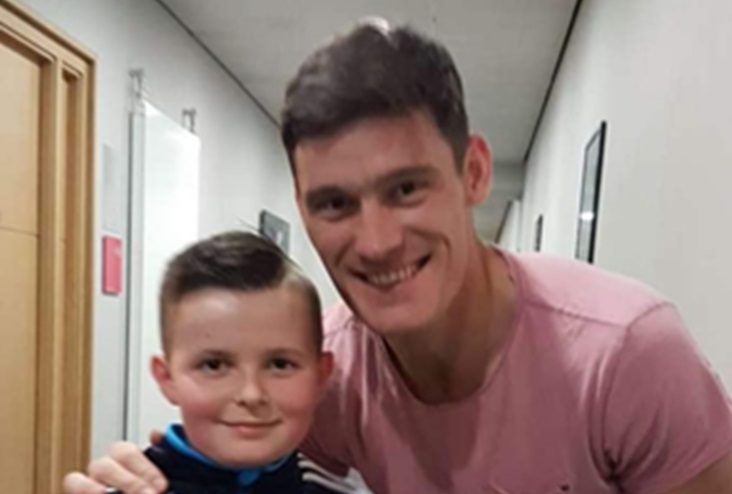 Diarmuid Connolly with Dublin supporter Eoin McNiece
He may not have got any game time at Croke Park last night but Diarmuid Connolly still managed to make one young Dublin supporter's dream come true.
While his team-mates used the Phase II Super 8s clash with Connacht champions Roscommon as an opportunity to demonstrate their quality on the field of play, a classy gesture from the enigmatic St Vincent's talisman - back in the Dubs squad after a 17-month intercounty sabbatical – was every bit as impressive.
Prior to throw-in at GAA HQ, eleven-year-old Eoin McNiece was with his mother, Michelle, beneath the Davin Stand, when they spotted a familiar figure darting past. They waited for Connolly to return and, even though he was clearly in a hurry, asked would he stop for a photograph.
The five-times All-Ireland winner agreed to the request and duly struck up a conversation with Eoin, who plays at juvenile level for the Kingscourt Stars club in Cavan. Dublin's prodigal son complimented Eoin on his haircut and, when Michelle pointed out that it was too short, diplomatically stated that maybe it was "too short on one side":
"He was just running past and Mam asked if he could have a photo with me and he said yes and, while she was getting the phone ready, he said that he liked my hair and I said 'thanks'. My mam said 'it's a bit too short' and then he said 'only on one side' and then we had a laugh.
"We took the photo and said 'thank you' and then he ran off again. I was so happy and grateful because he was in a hurry but he stopped and found time for us and he was really nice."
Even behind the scenes, this trailblazing group of Dublin footballers is almost impossible to beat.
Most Read Stories