"It is about the wellbeing of the people in your county"
August 14, 2018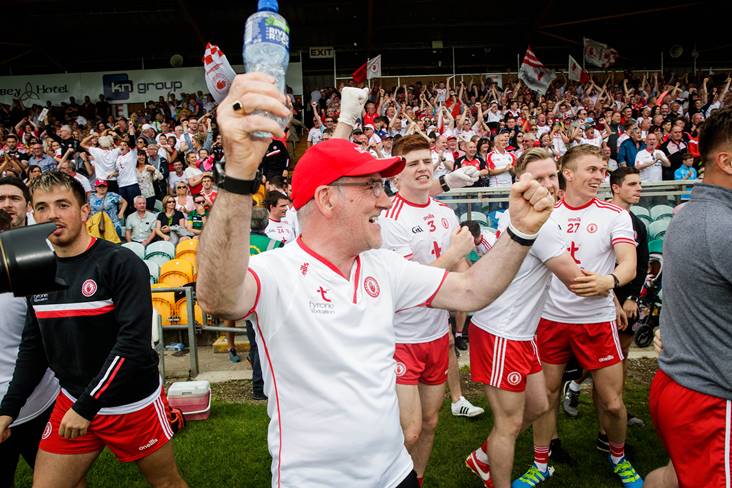 Tyrone manager Mickey Harte celebrates.
©INPHO/Ryan Byrne.
Mickey Harte feels that his team owed the people of Tyrone another All-Ireland final appearance.
The Red Hands haven't been in a decider since defeating Kerry a decade ago but bridged the gap to 2008 when defeating neighbours Monaghan at Croke Park last weekend. In between, they'd lost semi-finals to Mayo (2013), Kerry (2015) and Dublin (2017), so Harte believes Tyrone owed their supporters a win on Sunday:
"If you have been in four semi-finals and go home with nothing to do for the next month only watch other teams go for it, there is an awful sense of anti-climax," he told The Irish News.
"We know the people of Tyrone. They love their football and love to get energised by it. And we felt for the last number of years that we kind of let them down somehow.
"They just wanted to express themselves in terms of being here on All-Ireland final day. Maybe we got a wee bit spoilt with three in five years in the 'noughties, but still there is a longing in the people of Tyrone to be here on All-Ireland final day.
"And we always felt we were playing for them. That's what we do it for. We don't do it for ourselves. We do it for those good people who travel miles and miles to support it; people who have family issues where football brings them some consolation. So it's not just about Gaelic games or about playing football, it is about the wellbeing of the people in your county."
Most Read Stories