Call for Mayo-Dublin men-ladies double-header
January 04, 2018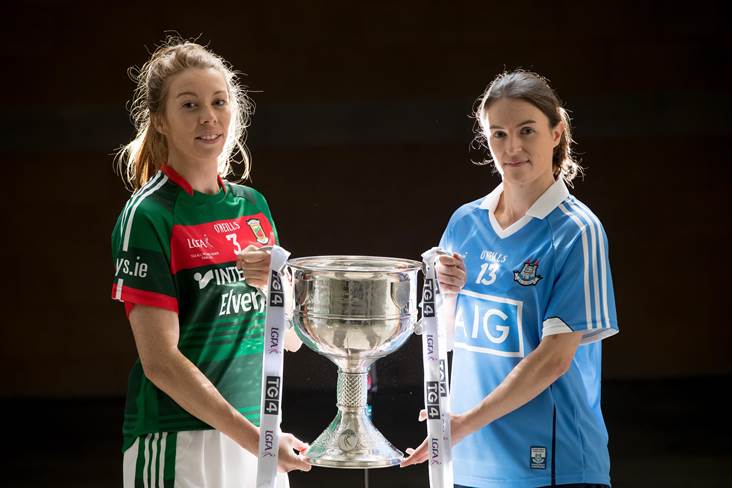 Mayo captain Sarah Tierney and Dublin captain Sinead Ahearne at the All-Ireland ladies football finals media day at Croke Park.
©INPHO/Morgan Treacy.
Mayo ladies manager Peter Leahy is calling for a league double-header against Dublin next month.
Leahy's charges are due to host the Dublin ladies on Sunday, February 25th, while Jim Gavin's team is scheduled to arrive in Castlebar a day earlier to face Mayo in Division One of the national football league. Both fixtures are repeats of last year's respective All-Ireland finals and the new Mayo boss believes they should be put together on the same bill, similar to how the Dubs accommodated their ladies teams at Croke Park last year.
Dublin and Mayo, incidentally, contested the first-ever ladies league match to be played at HQ last March when the Ladies Gaelic Football Association and the GAA joined forces to pair it with the Dublin V Roscommon league game ... Leahy is hoping that Mayo can now entertain the All-Ireland champions in both mens and ladies codes as part of one bill:
"We're in the process of discussing it," he told The Western People. "We have to join forces in a lot of ways and really push this whole Mayo thing. Everyone in Mayo should be just as proud of us trying to do the same thing as the men.
"I'd be very practical and sit down with whoever needs be. If Dublin ladies can get four double-headers in Croke Park, surely we can sit down and discuss something."
Most Read Stories