What they said … the weekend in quotes
June 17, 2019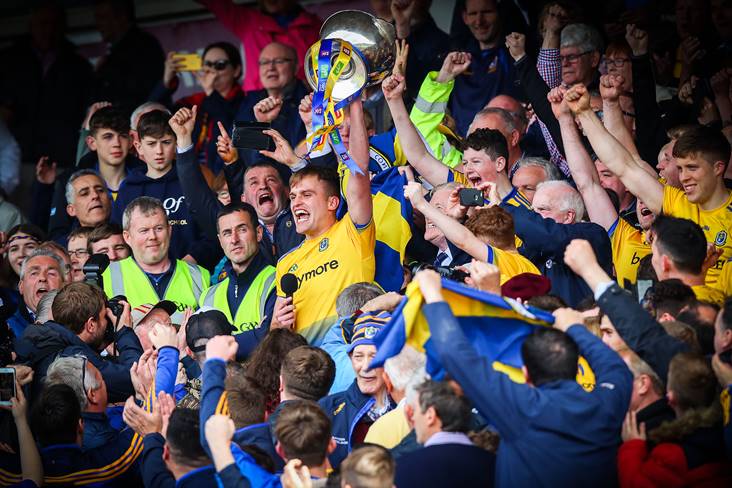 Roscommon captain Enda Smith lifts the Nestor Cup after the Connacht SFC final victory over Galway at Pearse Stadium, Salthill. ©INPHO/Tommy Dickson.
"I am not here to beat Galway. I am six years now working in Dublin hurling. My job is to get the best out of the guys, that was my only focus."
Mattie Kenny put one over his native county at Parnell Park on Saturday evening.
"That's sport."
A bitterly disappointed Micheal Donoghue's reaction to Galway exit from this year's championship race.
"Jesus, if you are a hurling person you want to play the best. The respect I have for Brian Cody is immense, like. But you want to play him."
Davy Fitzgerald will renew his sideline rivalry with Brian Cody in the Bob O'Keeffe Cup decider.
"It was helter-skelter stuff. The goal was hugely important for us. It gave us a small bit of a lead. It was that kind of game, it could have gone either way. As it turns out, we're happy to have drawn the game."
Cats supremo Brian Cody was happy with how things panned out in Innovate Wexford Park - and Parnell Park!
"They can attack us all they want, we're around a long time, we don't have any issue with that. But attacking players as they have done, it's not very respectful."
Clare answered their critics with a battling win over Cork but that wasn't enough to extend Donal Moloney & Co's interest in this year's championship.
"I'm delighted we've achieved the top three. I'm disappointed we're not in the Munster final but based on that performance today, we don't deserve it."
John Meyler and the Rebel County relinquished their Munster SHC crown.
"In sport, you don't often get the chance two weeks later to go back and right the wrongs as it were. We just didn't feel we were 100pc on it today. It's been laid at our door for the next two weeks and we have to respond."
Tipperary have thrown down the gauntlet to Limerick and it's up to John Kiely and his players to respond in the Munster decider.
"It moves now from the comfort of having the league gone and into the real business of this Championship."
Liam Sheedy is hoping his Premier County troops can continue their winning ways.
"No one died, the sun the will rise again in the morning, and please God Offaly will rise again some time soon."
Faithful County legend Joachim Kelly was powerless to prevent their slide into the Christy Ring Cup.
"It means an awful lot. It would have been a huge setback for the group and for everything that they stand for. If you get relegated, you're a failure, that's the way it's looked at."
In the opposite dressing room, relief was the over-riding emotion for Kingdom manager Fintan O'Connor.
"I think anybody with a brain in their head would realise after about ten minutes of the second-half that it turned into a shadow boxing exercise."
Westmeath manager Joe Quaid isn't reading too much into their draw with Laois ahead of their Joe McDonagh Cup final showdown.
"I think in terms of intensity you're going to see a completely different match, both teams didn't stand back from it today but there's obviously more there."
Quaid's O'Moore County counterpart Eddie Brennan agreed with his sentiments.
"I'm just delighted to be involved with the GAA, be it football or hurling, it's an honour and a privilege."
Roscommon boss Anthony Cunningham carved a niche for himself in the history books by becoming the first person to manage provincial football and hurling winning teams.
"We'll have to evaluate it during the week … one thing for sure is it wasn't a consistent performance."
Kevin Walsh was left scratching his head after Galway's four-point defeat.
Most Read Stories