Cavan All-Ireland winner passes away
July 11, 2020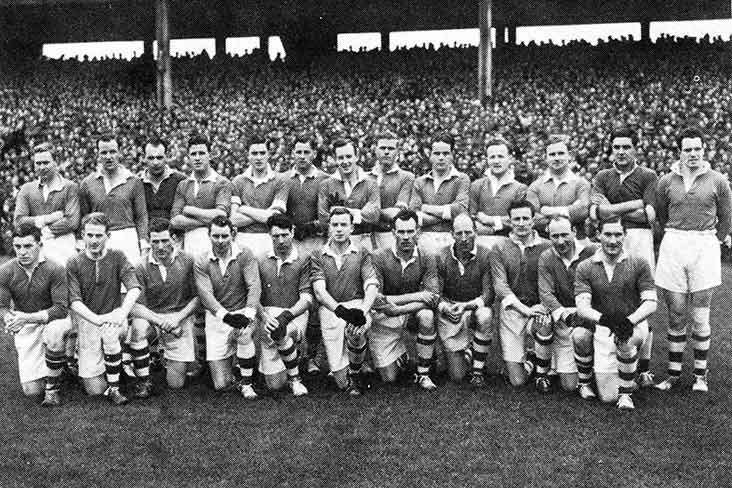 Cavan All Ireland champions 1952: Back Row (Left to Right): Paul Fitzsimons, Tony Tighe, Peter Donohoe, Liam Maguire, Brian Gallagher, Victor Sherlock, Tom Hardy, Bartley McEnroe, Aidan Corrigan, Edwin Carolan, Simon Deignan, Vincent Clarke,
James McCabe
. Front Row (Left to Right): John Sheridan, Terry Keogan, Des Maguire, Seamus Morris, Johnny Cusack, Seamus Hetherton, Phil Brady, Mick Higgins (Captain), Pat Carolan, JJ Cassidy and Brian O Reilly.
Cavan All-Ireland winner Johnny Cusack has sadly passed away.
Cusack was a star of Cavan's last All-Ireland winning team in 1952, lining out in the left full forward position as neighbours Meath were beaten in the final at Croke Park. In his 90's, the Lavey legend, who died peacefully at home yesterday, also won two Ulster SFC medals with the Breffni County in 1954 and '55.
He is survived by his wife Anna and daughters and sons Mary, John, Dympna, Phelim, Aideen and Martin.
The following is a feature on Johnny which appeared in the Cavan GAA Yearbook - Breffni Blue ten years ago:
The death of Mick Higgins at the tail-end of January reminded gaels locally of Cavan's fabled past when the Breffni blue was an all-conquering hue.
Cavan and Higgins were synonymous with everything that was good, healthy and vibrant about Gaelic football back in the 'forties and 'fifties especially.
Lavey legend Johnny Cusack was, like Higgins, one of the stars that lit up the county, provincial and national scene in those days.
Johnny remains a mine of information about Cavan football's good old days as, in the words of Welsh comedian Max Boyce "'cause I was there."
He was a key man on the Cavan team that secured the county's last All-Ireland SFC title in 1952. Sadly, a lot of his peers are no longer with us.
According to Johnny, of the team that started in the '52 final against Meath, only Seamus Morris, Jimmy McCabe, Brian Reilly, Paddy Carolan and Fr. Seamus Hetherton are still living to tell the tale.
Johnny is happy to report though that fellow panellists of the time, Paul Fitzsimons, John Sheridan, Terry Keogan and Dan McCaffrey, survive also.
In reflecting on the life and times on the field of play of the iconic Higgins, Johnny is as quick at firing out the bouquets as he was in notching points.
"Mick was a great player," the 82-year old Lavey resident confirms. "I'd go so far as to say he was Cavan's greatest ever player in my book.
"He could sell a dummy to the best backs around and the crowd loved that from him. There was great pace about him and great vision on the ball too.
"He'd show the ball out towards his marker and then take it back into their chest and then he'd be away like a hare up the field and in on the goal.
"Mick was very boney but he was very strong though. If someone came in with a dirty tackle, they knew all about it - he could handle himself well.
"He did a bit of boxing when he was training to be a guard and although he didn't look for trouble in a match, he could give as much as he got."
The '52 Sam Maguire Cup-winning side was a team teeming with talent and Johnny admits to having been privileged to be part of the first XV.
Typically, he engages in a bout of deprecating humour about his own talent. He describes himself as a "tramp forward liable to be playing anywhere."
In that regards, he recalls how he was charged with policing great players like Tyrone's Iggy Jones and Armagh's Bill McCorry all around the field.
"My favourite position was corner-forward but I was often brought back to the half-back line to pick up some player or other who was dangerous.
"Being in the corner, you depended a lot on the ball coming into you. Higgins was a great distributor of the ball and so he was great to play alongside.
"I remember I knew a man called O'Neill who was from Mayo but who worked in the post office in Cavan town and he told me a story about Higgins.
"He said he was talking to the great Sean Purcell and he (Purcell) told him that he had modelled his game on Mick Higgins - that was some tribute."
With reference to Cavan's 4-5 to 4-4 triumph over Mayo in the '48 All-Ireland, Johnny recalls an incident which cast Higgins further into the limelight.
It appears that Mayo's star forward Padraic Carney had a chance in that '48 decider to rifle over a 14 yard free at the death to level the match.
But his kick was charged down by Higgins and moments later the final whistle sounded to the consternation of the westerners.
"I remember Cavan had a great first half against the wind and Willie Doonan got a goal from a breaking ball that put us ahead at half-time.
"But they (Mayo) came back and got three goals and then Carney had the chance to get the equaliser from a 21 yard free.
"Higgins knew Carney was going to get it hard to rise the ball quickly enough so he ran up and he did block the ball and then cleared it down the field.
"Sean Flanagan (Mayo) went mad and claimed that Higgins wasn't far enough away from the ball when Carney took the free but the score stood."
Sadly, due to ongoing problems with his knee, Johnny wasn't able to play any part in Cavan's glorious odyssey in '48.
In fact, the Lavey dynamo was forced to rest for the duration of 1947 and '48. Thankfully his sabbatical from the game did the trick.
From 1949 onwards, the flying forward, injury-free, was able to play to the maximum of his ability and duly reaped a rich dividend.
Alongside the likes of the aforementioned Carolan and the 'Gunner Brady', Johnny starred on the Cavan team that reached the Ulster JFC final in '49.
How did it feel to be elevated onto Cavan's premier football team thereafter?
"Great. I was from the country and didn't know an awful lot of them before I joined the county but they were all very nice, a great bunch of fellas.
"I remember one time in '49 the whole panel went and stayed at the Park Hotel in Virginia in the stables they had at the back of the property.
"They were paved and made into a dormitory where about 20 of us could stay overnight. We all trained under Simon Deignan then."
A winner also of Ulster SFC medals in 1954 and '55, Johnny was a mainstay of the Cavan senior team 'till 1955 when his intercounty career finished.
Johnny and Cavan football's relationship was a mutually beneficial arrangement and occasions like that mentioned above in Virginia remain indelibly stamped on his cerebellum.
"We trained full-time in Virginia for a while. We'd get up at about half-seven in the morning and go for a run, around a couple of mile, and then have a rest back at the hotel until after nine," says the 5'8", and one-time 12 and a half-stone fighting fit attacker.
"We'd get togged out again two hours later and then train away 'till half-twelve before having our lunch about an hour later.
"We'd rest 'till around three o'clock then start to do a lot of sprints and then have a match among ourselves 'till tea time at six.
"We'd finish training for the day then and go for a long walk. After the walk, we'd go to bed at half-ten. It was like a whole professional set-up."
Of course, all the while Johnny was involved with the county squads, he was a leading light on the club front, starring with his beloved Lavey.
Father of current Lavey favourite Martin, the personable Cavan veteran stood out as the black and whites lifted the Cavan SFC in 1951.
The '51 success arrived exactly one year after the bould Johnny had guided Lavey to success in the JFC while wearing the hat of player/trainer.
"Only for Cootehill we'd have won another couple of championship medals," he laments. "They were always able to beat us when it counted most."
Johnny later trained the Lavey team that scooped the JFC title in 1975 but confesses to the belief that "we should have won the intermediate too."
Fast-forwarding the tape up to the present day, Johnny was delighted to see Lavey lift the 2009 IFC with victory in the final against Cootehill Celtic.
He says that he was always confident during the county decider that the black and whites had the wherewithal to beat the hoops to the title.
"I thought our lads always looked in control and the goal we got just before half-time was the crucial score of the match and really hurt Cootehill."
It saddened him that his home club missed out on securing the Ulster club IFC crown but says Cookstown were the better side on the day.
"We made it hard for ourselves by going down a man for the last ten minutes but they're a young team and they had a great year.
"If they all stick together and keep improving in the same way they've been doing over the last few years, they'll do well at senior."
As for Cavan's fortunes on the intercounty stage, Johnny expresses the view that the county needs to unearth some new powerhouses.
"We have good footballers in the county but there's not enough power in the county team. We seem to be a small race of people in Cavan.
"You never know with football though. Cavan aren't fancied to do anything this year but they could surprise everyone. You never know."
Most Read Stories