Meath man takes on challenge of visiting every GAA ground in the county in 24 hours for charity
July 11, 2020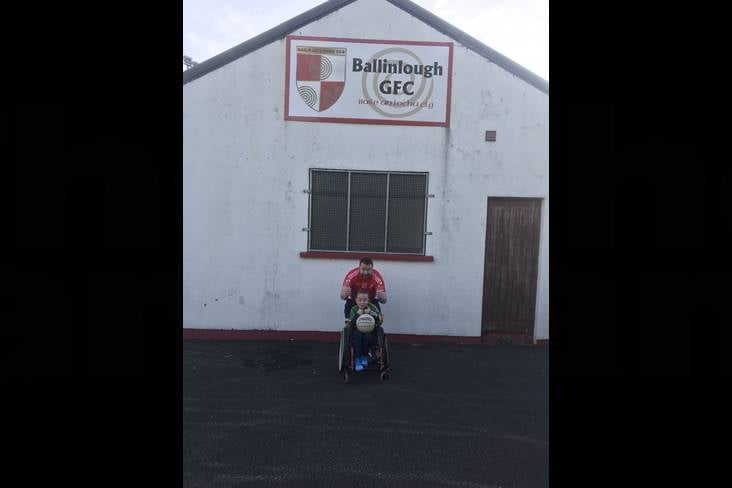 Derek with his Tom in Ballinlough after completing the exhausting pitch challenge in 14 hours.
Meath supporter Derek Lynch is taking on a challenge of visiting every GAA ground in the county in 24 hours to raise vital funds for A Better Life For Livie, a fundraising drive for baby girl Livie (Olivia) Mulhern, who has been diagnosed with SMA.
Starting at his local hurling club Kilskyre this morning and finishing at his local football club Ballinlough, 'Sharpe' is going to over 60 grounds. Derek is making sure to kick or puck a point in every pitch but if the gates are closed, he will solo outside the grounds instead. Ballinlough GFC PRO Susan Farrell has joined Derek on his journey around the Royal County. Susan has been posting updates on the Ballinlough GFC social media accounts as they go along.
Derek started at Brian O'Higgins Memorial Park at 6am, he then headed north to Moylagh, St Brigid's, Oldcastle, Carnaross, Moynalty, St Michael's, Kilmainhamwood and Nobber.
Next up was Drumconrath, Meath Hill, Syddan, Castletown, Wolfe Tones (Gibbstown), Rathkenny, Seneschalstown, Slane, St Mary's and Duleek-Bellewstown.
Then he headed to the east coast, visiting St Colmcille's, St Patrick's, onto St Vincent's and over to Skryne where he bumped into two-time Footballer of the Year Trevor Giles.
Curraha, Ratoath, Donaghmore-Ashbourne, Kilbride, Dunboyne, St Paul's and Dunshaughlin are up next before Derek continues his journey south and back up north to Ballinlough.
Update:
Derek completed the exhausting challenge in 14 hours having reached Ballinlough at 8pm and his son Tom took the final kick.
You can donate to 'Sharpe's Pitch Challenge' here: https://www.gofundme.com/f/pygfb-123
Livie (Olivia) Mulhern's story
Livie (Olivia), who lives in Balrath Co. Meath, has been diagnosed with SMA, the same condition as Dan from the Do it for Dan campaign.
Little Livie has been diagnosed with a rare and serious genetic neuromuscular condition called spinal muscular atrophy (SMA) type 1. There is no cure and Livie has its most severe type. Livie's muscles used for activities such as crawling, walking, sitting up, moving her head, and even swallowing and breathing, are becoming progressively weaker and shrinking. Without any treatment, little Livie's condition would continue to deteriorate and it would be unlikely that she would live past her 2nd birthday.
Treatment options for little Livie are very limited. The best hope for a better life for Livie is a once-off gene therapy called Zolgensma, which is currently only available in USA. It costs approximately US$2,100,000.
Most Read Stories