"Don't stick your two fingers up to the rest of your team-mates"
February 20, 2018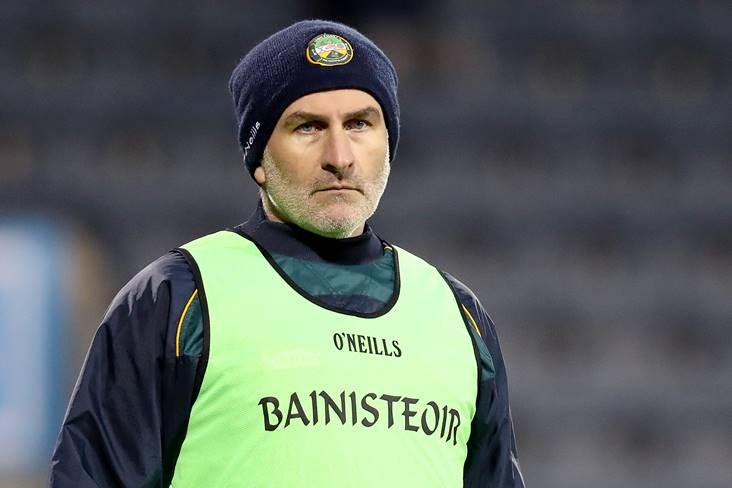 Offaly manager Stephen Wallace.
©INPHO/Oisin Keniry.
Offaly manager Stephen Wallace has hit out at Paddy O'Rourke over his disparaging comments about Meath football.
After stepping away from the Royal County set-up, O'Rourke claimed that Meath have no chance of winning anything. He is the latest in a long line of intercounty retirees to peddle grievances over the commitment required to play at the highest level.
"What about all the other Meath guys who are happy to be there?," an unimpressed Wallace asks in The Irish Examiner. "What about the Meath guy who is number 25 on the panel, or 36 on the panel?
"Don't stick your two fingers up to the rest of your team-mates, especially a guy who has been lucky enough to get trips to Australia played in Leinster finals and all the rest. Meath are where they are at the minute and his team-mates don't need to be hearing that, but he is not alone. If you want to walk away, then walk away, but don't beat the guys who are still at it with a stick."
Tipperary's Kieran Bergin and Clare's Brendan Bugler are others who aired their quibbles in public after stepping away from their respective county squads:
"I don't think it is fair on the current players for ex-players, who played at a high level, to come out with this rubbish. Nobody asked the guys who now can't commit to commit for the last seven or eight years. These are guys with All-Ireland medals in their back pockets and now, when they walk away, they have a problem with the commitment.
"It is a nasty business and not fair on the young guys, particularly the players in weaker counties who are giving their life to their county jersey and some of them don't even get a game. To read about this nonsense in the paper, it just doesn't sit with me."
Most Read Stories