Kennelly makes light of Kernan complaints
November 20, 2017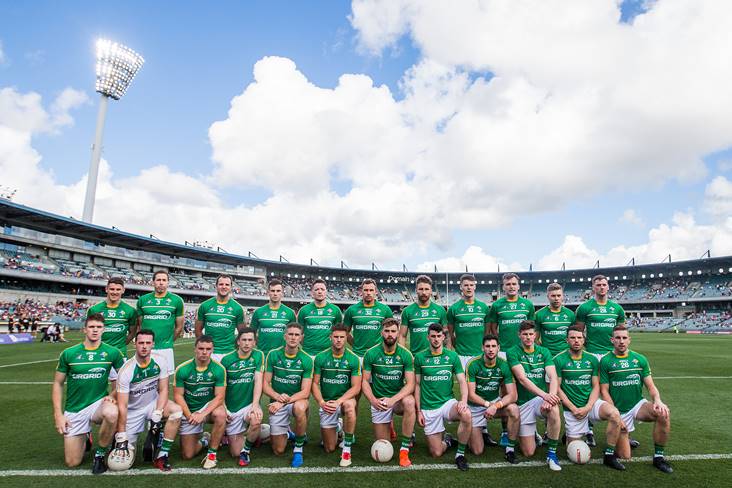 Ireland line up for a team photograph.
©INPHO/Tommy Dickson.
Tadhg Kennelly thinks Joe Kernan went overboard with his criticism of the match officials in Saturday's second International Rules Test.
The Ireland manager described the performance of referees Maurice Deegan and Matt Stevic as "diabolical" and accused the Australians of "torturing" Donegal captain Michael Murphy.
Kennelly, who won an AFL Premiership medal with Sydney Swans in 2005 and an All-Ireland medal with Kerry four years later, recently took up a coaching role with the Swans and told their website: "It's a bit of a different understanding in the game plan and the rules and what is acceptable in Ireland and what is acceptable in Australia."
Commenting on Joel Selwood's heavy challenge on Chris Barrett, he said: "In Ireland, when you hand pass the ball you don't really get any contact, in our game when you hand pass the ball you brace yourself because there might be contact coming.
"It's just a misunderstanding I didn't think there was a whole lot... I thought the spirit of the game was fantastic and the the competitiveness of both teams was A1."
The Listowel native welcomes the idea of playing next year's Test series in the US.
"The concept looked like it really took off, the two games were as good a contest as you have seen. I played in six of them; I've been involved in a lot of them. They were probably the best two games in the concept," he continued.
"Everyone talks about it going to America next year and then on to Ireland, as long as you get the best players playing in both codes the concept is going to work. The players have spoken already about playing it, they have put their hands up and are saying you know what I want to play this concept and the better players are putting their hands up.
"We don't do it as an international sport, but it's great to get an opportunity to work with people that you play against and learn from them."
Most Read Stories