An Cheathrú Rua to take on 48 hour relay run to Temple Street and back for Molli
May 29, 2020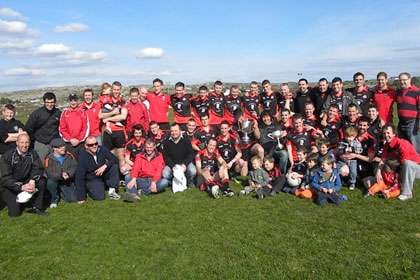 The An Cheathrú Rua club with the Junior and Senior cups
This weekend An Cheathrú Rua and CS Mhic Dara will be undertaking a 48 hour relay run from An Cheathrú Rua, Galway to Temple Street Childrens hospital in Dublin and back on Páirc An Chathanaigh.
It is journey undertaken by Molli Ní Mháille de Búrca and her family on a regular basis.
Starting at 6.30pm on Friday the 29th of May, each of the runners will run approximately 5km and hand over the cleaned football to the next person. This will continue on through the night and not finish up until 6.30pm on Sunday evening. With over 90 people signing up to do the run and willing to get out of bed at all hours of the night, it shows the support locally has been amazing for Molli.
On the 25th of November 2018, Molli Ní Mháille de Búrca was born a healthy baby girl weighing 7lb 6oz. She reached all her milestones and was a very happy baby and brought nothing but joy to her parents Amanda and Michael and older sister Shayna. All of that was soon to change and in June 2019 Molli was diagnosed with a severe Genetic Neuromuscular condition called SMA Spinal Muscular Atrophy type 1, also known as Werdnig Hoffman disease. The condition causes Mollis muscles to die. Molli started her spinraza treatment last July in Temple Street Children's Hospital, it involves a lumbar puncture procedure every 4 months. Thankfully she is responding well to the Spinraza and it is slowing down the progression, it is a life limiting illness and unfortunately there is no cure for SMA. Molli has no ability to move around. She has no muscle tone in her legs, very limited abilities in her arms and can use her hands well enough to lift her beaker for a drink and to feed herself. Molli will never walk. She can't roll around or lift her head on tummy time as her back muscles are incredibly weak. Molli sleeps well at night, but needs to be turned from side to side a few time's a night. Molli also suffers from aspiration. She's on grade 2 thickened fluids and can't have mixed consistency foods. She is always at risk of being sick and can get sick quiet quick.
The money raised from this page will go towards Mollis day to day expenses. It has been set up to hopefully take some of the financial burden off the family as Mollis Mom Amanda couldn't return to work as Molli needs 24 hour care. She will need to add mobility aids to her home which isn't built yet and the mortgage won't cover it. They will get no funding for help towards the aids as it is a new build and not an existing house that needs altering. She will also more importantly need a powerchair. These are very hard to come by as Molli is still so small and the waiting list is very long.
Is feidir do tacaíocht a thabhairt anseo - https://www.gofundme.com/f/an-cheathru-rua-go-sraid-temple-do-molli
Most Read Stories