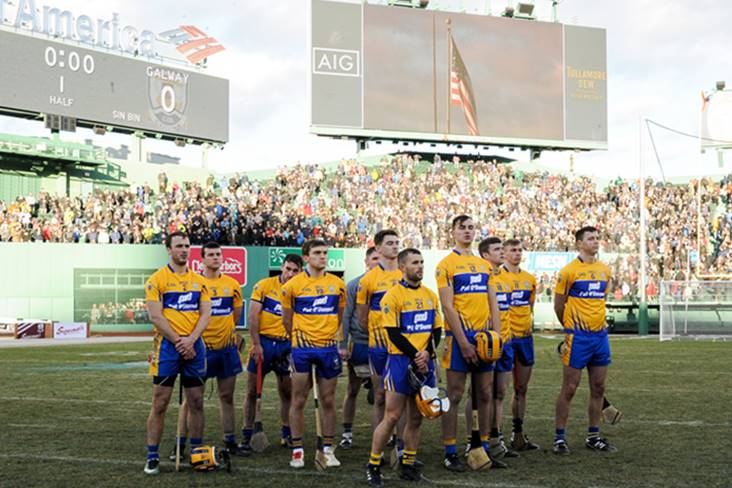 Clare players stand for the national anthem at Fenway Park.
©INPHO/Emily Harney.
Joint Clare manager Gerry O'Connor said that winning the AIG Fenway Hurling Classic was the perfect way for them to get their 2018 campaign up-and-running.
The Bannermen defeated All-Ireland champions Galway 50-33 at Fenway Park, having earlier survived a Tipperary comeback to win their semi-final 50-45.
O'Connor said the weekend, which attracted a crowd of 27,862 to the home of the Boston Red Sox, was a huge success and he believes it will aid the Banner in their preparations for the new season.
"The most pleasing thing for us was our attitude. We looked on this as a working weekend. The whole purpose of the weekend was to bring a group together who felt they could be a lot more together over the past year or since we started working with this group and from our perspective it's a case of 'job done'.
"The fact that we won something is nearly irrelevant. It's the journey we have been on over the past three or four days, it's been incredible, experiencing the goodwill from people here in Boston.
"But for us, the most pleasing aspect of all was mindset of our players over the weekend," he said.
Clare captain Pat O'Connor said it was a really special weekend and a great way for them to kickstart their 2018 campaign.
The Tubber clubman, who made his senior championship debut in 2011 and was appointed as Clare captain earlier this year, said it was the first trophy he has ever collected as skipper in his hurling career.
"It's my first trophy as captain at any level and when you consider I started hurling competitively as a five-year old playing U11, it has been a bit of a drought!
"The fact that we won it though is kind of irrelevant. This weekend is a celebration of Irish culture, Irish diaspora is strong, Irish influence over here in Boston is strong. The level of competitiveness from the four teams who took part, the honest endeavour, I hope really endeared itself to the American public.
"It has been a really special few days, the welcome we got from the people of Boston. It was once in a lifetime stuff and a brilliant platform to start the year," added the Clare captain.