Ryan adamant Croke Park hasn't lost touch with grassroots
November 30, 2018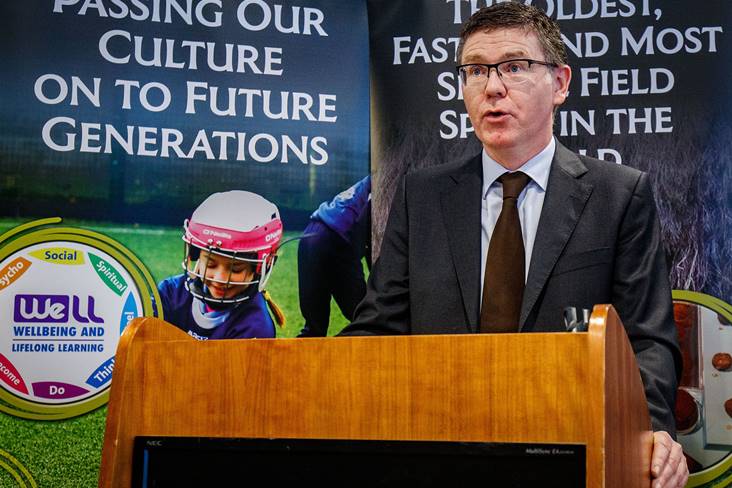 GAA director-general Tom Ryan. ©INPHO/Oisin Keniry.
Tom Ryan has strongly rejected the notion that the GAA has detached itself from its grassroots.
Since the Carlow man's appointment as director-general eight months ago, the GAA has been rocked by a series PR disasters, including the 'Newbridge or Nowhere' campaign and the Liam Miller benefit match controversy, which has led to disenchantment among ordinary voluntary members.
"That would be the one thing that I don't really like," he told the Irish Independent at the announcement of Unesco's Intangible Cultural Heritage Status for the hurling and camogie.
"Whatever about the decisions you might make, or directions you might embark upon, generally speaking you get some of them right and you get some of them wrong. But the sentiment behind them universally is to advance the association.
"And by that, I mean the association, the whole thing, not one specific element of it. But we all have, there are any number of competing interests. We talked about hurling versus football in certain counties. There are any number of competing interests, any number of competing perspectives and it's very, very difficult to balance all of those, all the time.
"Notwithstanding the fact that some are right and some are wrong, if people have the perception, - and I'm not saying that they don't - that Croke Park is kind of separate from clubs, or that terrible term 'grassroots' of the organisation, I think that's mistaken.
"For the most part, everyone working in here is involved in their club, and doing stuff in clubs. So we're the same as everyone else but we have to marry not just one perspective - you've got to marry an awful lot of them."
Most Read Stories