Gerry Reilly Cup fixtures
June 28, 2019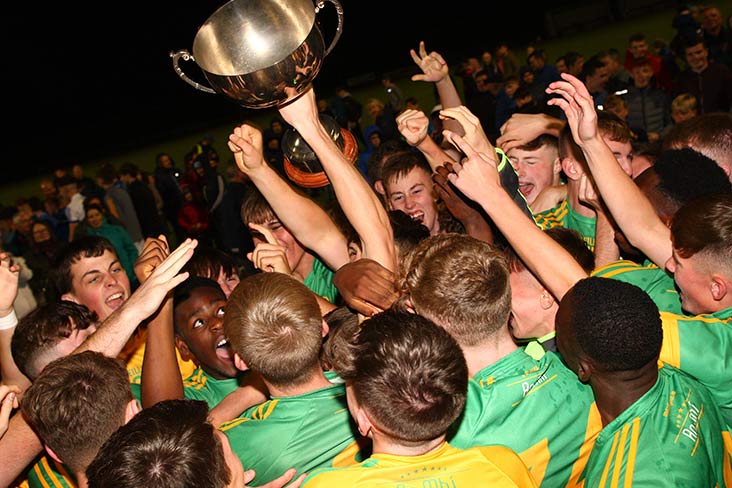 Meath defeated Cavan in the 2018 The Gerry Reilly Cup final in Millbrook.
The Briody Bedding sponsored Gerry Reilly Leinster U16 FT features both round 1 and round 2 games this, Saturday, 29th June.

18 teams (12 Leinster, 5 Ulster & 1 Connaught) are taking part this year split into 4 Groups. Groups A & C have 5 teams each while Groups B & D have 4 teams each.
Group A
1. Cavan
2. Longford
3. Fermanagh
4. Leitrim
5. Louth

Group B
1. Wicklow
2. Down
3. Dublin
4. Antrim

Group C
1. Laois
2. Meath
3. Monaghan
4. Westmeath
5. Cill Dara

Group D
1. Carlow
2. Wexford
3. Kildare
4. Offaly

Saturday, 29 June
Group A (Rd.2)
Leitrim v Cavan (Cloone @ 12 noon)
Louth v Fermanagh (Darver @ 12 noon)

Group B (Rd.1)
Down v Wicklow (Sat.20 July TBC)
Dublin v Antrim (Monday, 8 July -Darver @ 7.30 pm)

Group C (Rd.2)
Westmeath v Laois ( The Downs @ 11.00 am)
Cill Dara v Laois (Confey G.A.A., Leixlip @ 2.00 pm)

Group D (Rd.1)
Wexford v Carlow (Belfield @ 12 noon)
Kildare v Offaly (Confey G.A.A., Leixlip @ 12 noon)

Saturday, 6 July
Group A (Rd.3)
Cavan v Louth
Longford v Leitrim

Group B (Rd.2)
Antrim v Down
Wicklow v Dublin

Group C (Rd.3)
Laois v Cill Dara
Meath v Westmeath

Group D (Rd.2)
Offaly v Wexford
Carlow v Kildare

Saturday, 13 July
Group A (Rd.4)
Louth v Longford
Fermanagh v Cavan

Group B(Rd.3)
Antrim v Wicklow
Down v Dublin

Group C (Rd.4)
Cill Dara v Meath
Monaghan v Laois

Group D (Rd.3)
Offaly v Carlow
Wexford v Kildare

Saturday, 20 July
Group A (Rd.5)
Leitrim v Louth
Longford v Fermanagh

Group C (Rd.5)
Westmeath v Cill Dara
Meath v Monaghan

Results to date:
Played Saturday, 22 June
Group A (Rd.1)
Cavan def.Longford
Fermanagh v Leitrim (Date TBC)

Group C (Rd.1)
Meath 4-18 Laois 3-12 (Portarlington)
Monaghan 3-10 Westmeath 2-8 (Cloughan)
Most Read Stories