Camogie previews: League silverware on the line in Banagher
April 18, 2019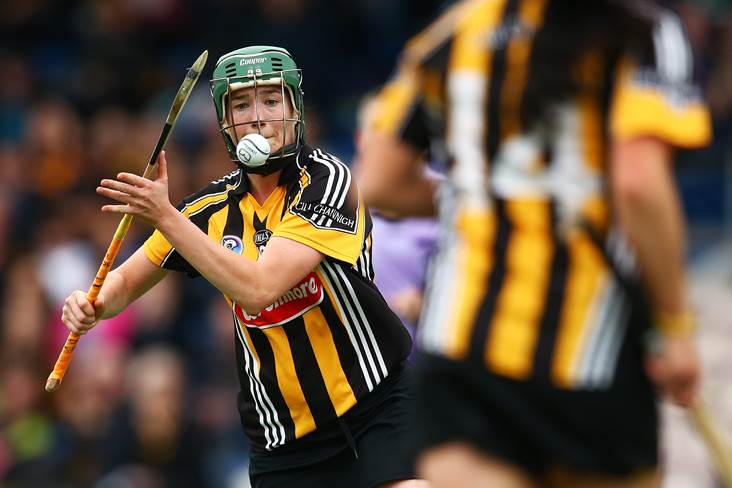 Kilkenny's Denise Gaule.
©INPHO/Cathal Noonan.
by Daragh Ó Conchúir
Saturday April 20th
Littlewoods Ireland Camogie League Division 2 Final
Kilkenny v Tipperary
St Rynagh's GAA, Banagher
Throw-in: 3pm
Referee: Philip McDonald (Cavan)
Kilkenny and Tipperary would want to beat each other crossing the road so even if these two teams hadn't already proved themselves well-matched, we could expect a rousing battle for silverware.
Remarkably, the neighbours have only met once at this stage of the Littlewoods Ireland Camogie Leagues, and that was in the Division 1 decider in which the Cats prevailed in 1980. Neither of them have a strong record since the inauguration of a second division, with Tipp never having even reached a Final, while Kilkenny have a 50 percent return from their two appearances, the triumph arriving in 2006 by a point against Dublin.
Tipperary appear to be building significant depth under Bill Mullaney's stewardship however, the manager bringing both Senior and Intermediate squads under his umbrella. The Intermediates reached the penultimate stages of the Championship last year and have carried that form on.
They recovered from an early loss to Meath to finish second in Group 1, taking the scalps of Down, Cork and Carlow along the way. In a three-group competition, there were three Quarter-Finals, with the winners of one going directly to the Final and the other two victors playing one another in a Semi-Final. Tipperary beat Derry by nine points to advance to a Semi-Final.
They reserved their best performance of the campaign to date when getting the better of last year's runners-up Westmeath by 3-9 to 1-12 in a thrilling affair in the same St Rynagh's grounds that the Final will be played in. Andrea Loughnane, Jenny Grace and the brilliant Niamh Treacy were prominent but when Treacy received her marching orders for a second yellow card offence, they looked in trouble.
Mullaney turned to his bench, introducing Sinéad Meagher and Joanne Ryan. Ryan was captain when Tipperary completed the Senior Championship/League Division 1 double in 2004 – the last time the blue and gold ribbons adorned either trophy – and the three-time All-Ireland winner and former All-Star showed all her experience, scoring a point and winning a free for another.
Meagher is an All-Ireland handball champion and her first contribution was to field a long delivery by centre-back and team captain Sabrina Larkin, and scored a key goal that helped Tipp over the line.
Kilkenny filled the runners-up spot in Group 3, defeating Laois and Antrim and recovering from a one-point loss to Derry to get the better of Dublin. Áine Fahey and John Scott's troops then proved four points too strong for a Galway unit that had finished top of Group 2 on score difference over Westmeath, and that earned them a berth in the decider.
Ciara Phelan, Lydia Fitzpatrick, Katie Nolan and Christine Lyng are players with plenty of experience in the attack while Aoife Prendergast, who has played National League soccer with Wexford Youths and made a fantastic return from a cruciate knee ligament injury, is a driving force in the heart of the defence.
It all points to a nail-biter.
Saturday April 20th
Littlewoods Ireland Camogie League Division 3 Final
Kildare v Limerick
St Rynagh's GAA, Banagher
Throw-in: 1pm
Referee: Barry Nea (Westmeath)
Division 3 comprised six teams that participated in one group and it was Kildare who came through with an unblemished record at the top of the table. It is notable though that the nearest they came to dropping points was at home in Hawkfield against Limerick at the end of February, when they edged a tight game by two points, 0-13 to 1-8.
Roscommon provided the opposition in the Semi-Final and it was nip and tuck throughout. But in the experienced Siobhán Hurley, who returned this year after taking a year out, and Lea Sutton, Peter Williams's side had a cutting edge through the middle of their attack that was the difference as they took the spoils with seven points in hand (3-10 to 1-9).
Hurley, a star of previous All-Ireland Junior and Premier Junior successes as well as Division 4 and 3 triumphs with Kildare, along with three consecutive All-Ireland Junior Club Championship titles with Johnstownbridge, contributed 1-6, with three points from placed balls, while Sutton notched up a mightily impressive 2-3 from play.
The Trant sisters Aoife and Fiona, and goalkeeper and skipper Tanya Johnson provide plenty of know-how in a squad that is rebuilding under Williams and the All Whites go in as slight favourites.
Limerick are clearly moving in the right direction though. After losing to Kildare, they were 0 for 2, having lost by three points to neighbours Clare but three wins on the bounce, including a one-point victory over Roscommon, secured third place and a Semi-Final against the Bannerwomen once more.
Ace free-taker Rebecca Noonan shot seven points overall as Limerick reeled in Clare, having trailed by four entering the fourth quarter to win by the same margin (1-11 to 0-10).
Anne Tangney, Aoife Coughlan, Leanne Browne and captain Grace Lee are other key contributors to Colm O'Brien's team and with the substitutes also making a contribution, a close encounter can be expected between the sides once again, with Limerick targeting a first ever Division 3 crown and Kildare their second.
Most Read Stories