Gribben honoured to lead out Clonduff at Croke Park
February 27, 2019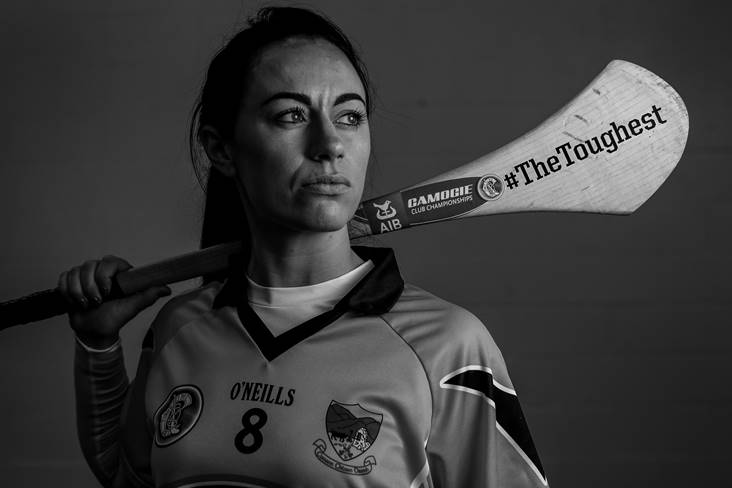 Clonduff's Paula Gribben at the launch of the 2019 AIB All-Ireland intermediate camogie club championship final. ©INPHO/Dan Sheridan.
BY SHANE STAPLETON
Paula Gribben is hoping the pain of September at Croke Park can fuel her AIB All-Ireland Intermediate club bid with Clonduff.
The Down star was part of a side that lost the All-Ireland Intermediate Camogie final against Cork five months ago, with club-mate Sara-Louise Carr harshly sent off during the second half. On Sunday, Waterford side Gailltír lay in wait in the club intermediate decider, and Gribben is hoping that the myriad Clonduff players who lined out for the Mourne County can put their experience of the biggest stage to good use.
"I think in our team, we are lucky that we do have a wealth of experience in that a lot of us have played for Down," says Gribben at the AIB All-Ireland Senior and Intermediate Camogie Club Championships media day.
"Just there in September, we had ten players who experienced the Croke Park atmosphere and hopefully when we're here for this game; people won't be as nervous. It's hard to take when you suffer a defeat in Croke Park, and it takes a wee bit of time to get over.
"Every time you play here, it means you're a wee bit more prepared for the next time you get here. Hopefully, our experience can be used on the day, and we can pass that onto the younger players.
"The message to the rest of the team is that 'it's just another game of camogie, it's 60 minutes like any other game, and approach it the exact same way; it's two goalposts and two teams, and hopefully that will drive through (to them)," she adds.
The two sides are unknown quantities to each other but Gribben is very much of a mind that Clonduff is better served by focusing on their own strengths and on what they can control.
"I suppose you can't plan as much in terms of what you're going to do to the opposition," the forward admits. "You can't necessarily pinpoint who you are going to mark, or what strategy you're going to use on their players.
"Sometimes you have to wait until five minutes into the game and see what way they have set up. I do think one thing we've learned through experience is to not focus too much on the other team, because you can get bogged down in reading articles and looking at videos and doing all of this. When you get too involved in that, you forget to play your own game.
"The week after the semi-final, we were probably looking more at Gailltír, but then we said 'let's focus on our own game', Gailltír will be doing the same. I think those last three weeks (coming into the final) we have really realised that we have got here through our own achievements so we'll focus on our strengths and play our own game and hopefully that's enough to get over the line."
Gribben, who was named Down captain at the start of the 2016 season, has so often heard of what a great achievement it is for their club to make the final, but she is determined to make it count on March 3rd. It's the first time a Clonduff team will grace this stage of a club competition, and the buzz among the 32 panelists and around the parish is "fantastic."
"With age and experience, you value everything that comes to you a lot more," says the veteran star. "We have a lot of younger players on our team, and some of them only stepped onto the team this year, and they do not realise what they have achieved and what they have got.
"If it was me stepping onto the senior team for the first time, I wouldn't realise it but now that I'm older and you've played, you really value these days. You know people will play their whole lives, some of the top players in the country, and they never get to step onto Croke Park on an All-Ireland final day in your club jersey.
"Your club is where you start, where you finish your career, so to be able to represent our club in the yellow jersey on All-Ireland final day is the ultimate for us. You can sense that in the club — you have older men coming up and saying how proud they are, and that they'll have a tear in their eye on the day you run out onto that field because you're representing the whole club. It's the pinnacle of my career and it's an honour to captain this team.
"To have an All-Ireland medal would be everything. To do it with your family and friends and girls you have grown up with, and supporters who know you inside out, it would be a great achievement."
Most Read Stories