"The GAA is everything to us"
February 27, 2019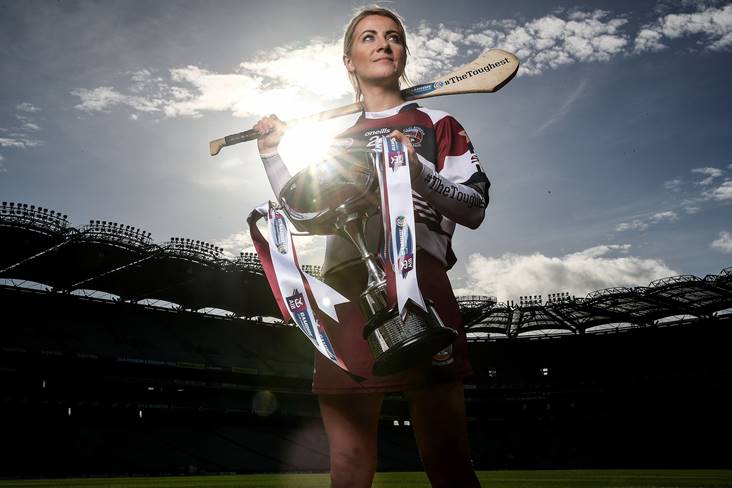 Slaughtneil's Gráinne O'Kane at the launch of the 2019 AIB All-Ireland senior camogie club championship final. ©INPHO/Dan Sheridan.
BY SHANE STAPLETON
They know not to mention the three-in-a-row when Gráinne O'Kane is in the house.
Slaughtneil is looking to complete an amazing treble of AIB All-Ireland camogie titles, matching what St Lachtain's of Kilkenny last achieved from 2004 to 2006. Such landmark feats tend to draw plenty of chatter and distraction, but the Derry side is determined to rise above that ahead of their March 3rd date with St Martin's of Wexford.
"The GAA is everything to us," says O'Kane. "People are always talking about it, always thinking about it, but people know not to mention it around the house just now.
"Our achievements have been great up to now, and it's always been about peaking at the right time. The buzz has been brilliant these past four or five years.
"The three-in-a-row talk is something that happens around the parish more so than in the camp. We try to not get distracted by that; we have just been taking it match-by-match. It would be fantastic to do it but, again, that's more the community focused on it rather than us."
For a time, there was concern that the March 3rd final date would clash with one other huge event: the birth of manager Damian McEldowney's child. Last week, little Tadhg arrived ahead of time and the entire panel of players "were delighted for him". After missing a couple of sessions looking after his new bundle of joy, McEldowney was back in the harness, plotting a way past the Wexford champions.
Slaughtneil is an area soaked in the traditions of GAA and the Irish language. The words "ni neart go cur le chéile", meaning "there is no strength without unity", appear on the back of their jerseys, and there is a strong culture of giving back to the club.
"We're a rural club and the GAA is the heart and soul of the community," O'Kane explains. "It's all about working hard and volunteering for the club, and helping out underage too. It all filters down through the club and giving back helps bring it on for the next generation."
The Derry champions beat Ardrahan by 0-8 to 0-4 in their club semi-final, while St Martin's had a convincing 0-11 to 0-5 win over Rena Buckley's Inniscarra. At Croke Park on Sunday, it will be a clash of the serial winners against a side breaking new ground this season.
"Everyone is level-headed going into the game," says O'Kane. "We haven't faced St Martin's before, so it's a new challenge. They look to be a very tough team. They play a tight game, and are very physical. Our preparation is going well, the mood is good and we're hopeful our form will stay strong.
"I didn't think about getting back here after we won our first All-Ireland," O'Kane adds with a smile. "We were delighted to win the one, so to be here for a third one is unbelievable. We've put a lot of hard work into it and were deserve to be here. And to be in Croke Park again, after the weather meant the final was moved to Clones last year, is fantastic too.
"It's been a long pull to stay going for a third season, but we have a great bunch who are fully committed, both the players and the management. It's 100% from everyone all the time.
"Games like this are the stuff that dreams are made of, and you want to take these opportunities with both hands," says team-mate Siobhan Bradley. "We're not going for the hype of the three-in-a-row, we have to stay grounded and know that St Martin's are not going to be easy.
"Our manager Damian McEldowney knows how to keep us distracted from it and helps us deal with the pressure. We have plenty of experience of the big days now. We'll give it our best, and hopefully, that will be good enough."
Most Read Stories