Downey questions big ref decisions
September 09, 2018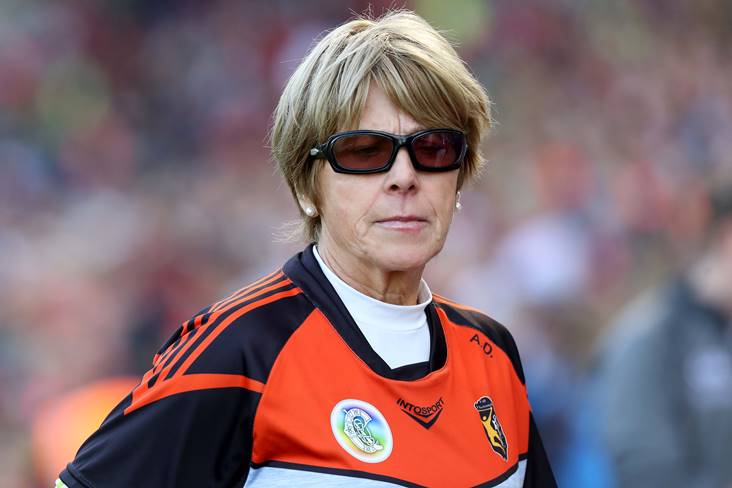 Kilkenny manager Ann Downey. ©INPHO/Bryan Keane.
While stopping short of criticising referee Eamon Cassidy after her side's narrow All-Ireland senior camogie final defeat to Cork, Kilkenny manager Ann Downey felt her side were on the "wrong side on a lot of the calls".
And she was adamant that Orla Cotter's late winning free nor one awarded moments earlier to Cork should not have been awarded.
"I've had a look at it in the dressing room with our stats people and without criticising the referee, Orla [Cotter] was falling. Our players weren't around her to be quite honest but hadn't touched her. I thought it was a harsh enough free which I suppose you saw from my reaction on the line," she told RTE.
"I thought the free against Davina [Tobin] before that, there were two hard calls on us. I suppose Eamon [Cassidy] has to look at his own performance and judge himself, I'm not going to give out about him. It is what it is, it's not going to change the result. We have to be able to take it on the chin and move on."
Downey also felt the penalty awarded to the winners in the first half, which goalkeeper Aoife Murray pointed, was an incorrect call.
"We looked back at it and I think Colette [Dormer] got a flick of the ball and there was nothing. She never touched the player. These things will happen. Like the player, the referee is not going to referee a game and get everything right.
"But I thought we maybe came out the wrong side on a lot of the calls," the Kilkenny camogie legend added.
Most Read Stories