From depression to All-Ireland glory - Ashling Thompson's inspiring story
March 14, 2018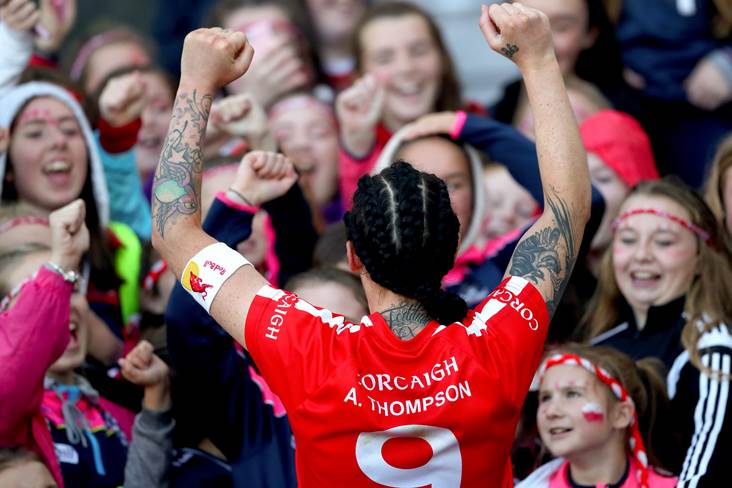 Cork's Ashling Thompson celebrates with fans.
©INPHO/James Crombie.
Ashling Thompson's battle to camogie greatness after a life threatening encounter with acute depression is the subject of tonight's Laochra Gael which airs on TG4 at 9.30pm.
The Millford and Cork star recalls how a car accident in 2009 had serious negative repercussions on her life.
"When sport was no longer an option and I wasn't the player and athlete that I used to be, then I started to crave that attention from a different light," the All-Ireland winning captain says.
"People I hung around with and got involved with, I just wasn't that type of person. I suppose that was the attraction. It was dangerous and it was what I felt was going to fill that void.
"I turned into a completely different person, extremely angry. I had a fuse the length of my toenail. It was serious. My mother was afraid of me, my own brother was afraid of me, and you just couldn't control me.
"It's something I have to live with for the rest of my life, something that scarred me, decisions that I made, and mistakes that I made. I'll have it in the back of my memory for the rest of my life."
Thompson speaks candidly about how camogie helped her to dig herself out of that dark hole.
"I was literally locked in my room for two months. I literally left to go training and that was it.
"I didn't associate with anyone. I didn't trust anyone. I had lost all faith in myself, lost who I was. I was like, 'no way is there a God out there if have to go through this."
She adds: "The one thing I'll never forget, bouncing back is being able to feel emotion again. I remember when I was going through that tough time, I had absolutely no feelings whatsoever.
"You could have held a gun to my head and I wouldn't have flinched, wouldn't have even blinked, and I actually even remember crying and feeling that emotion when I did come back to myself. I remember appreciating it so much.
"It was probably at training when I lost my temper but I will never forget the moment I felt emotion again. It was such a good feeling. I was crying but I was so happy I could feel the emotion."
Most Read Stories