Leinster Convention elects Big Jim Larkin's Great Grand-daughter to top spot
January 15, 2018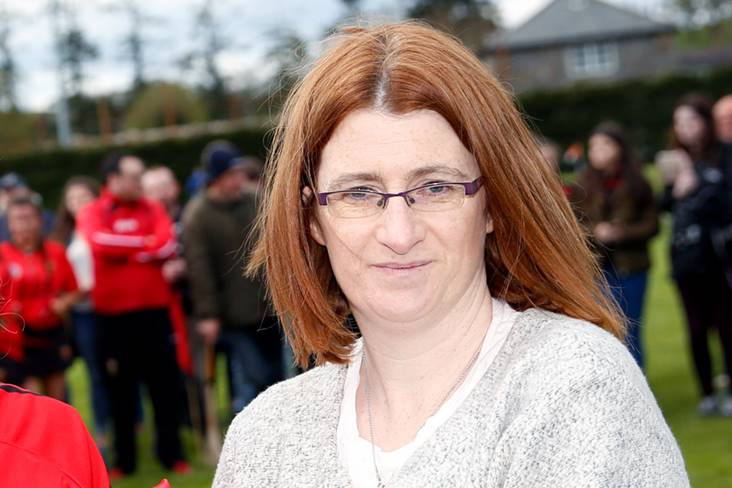 Athy's Hilda Breslin.
It's not known if Labour leader "Big" Jim Larkin of 1913 fame was a camogie fan. It matters not but Larkin blood now has a place in the sport following the election of his great granddaughter Hilda Breslin from Athy to the position of Cathaoirleach Tofa (Chair-Elect) of the Leinster Camogie Council at Saturday's (13 Jan) Convention 2017 in Portlaoise. Hilda will take over the position of Chair in January 2019.
Currently the Chairperson of the National Competitions Management Committee, Hilda has also served as Secretary of the Kildare Camogie Board from 2010 to 2015. When not covering the highways and byways in the service of camogie, Hilda works as an Audit Manager with the Irish Auditing and Accounting Supervisory Authority.
Looking forward to her new role Hilda said "I greatly appreciate the work being done by volunteers at all levels, and fully understand the difficulties that all clubs and counties face through the experience I have gained in these wide ranging roles from the grassroots up. These roles have reinforced my belief in our game, its dynamic future and the need for closer co-operation with the GAA and LGFA; with whom I have successfully worked and built relationships at a national and county level. I believe that as a Gaelic Games family we need to strengthen what binds us; working together we are stronger both within camogie and the wider family."
In other election news from Convention - Melanie Ní Dhuinn of Wexford was elected to the position of Vice Chair. While delegates returned Carmel Carroll (Offaly) as Treasurer, Linda Kenny (Carlow) as Registrar, Angela Gahan (Wexford) as Development Officer and Gerry O'Sullivan (Dublin) as PRO. Hilda Breslin will also be Ard Comhairle delegate. 
There was plenty of good news at Convention in Áras Laighean in Portlaoise with club numbers hitting a record 222 accounting for nearly 31,000 members in the province. The rise in numbers and growth in the attractiveness of camogie was also reflected in the financial sense with a 42% increase in gate receipts. 118 games were played in the 2017 season. Chair Pat Martin commended the great work being done all over the province which has seen great national success at League and Championship levels. 
Most Read Stories