Camogie: Goalscorers Donnelly and Behan ready to do it all over again
November 27, 2017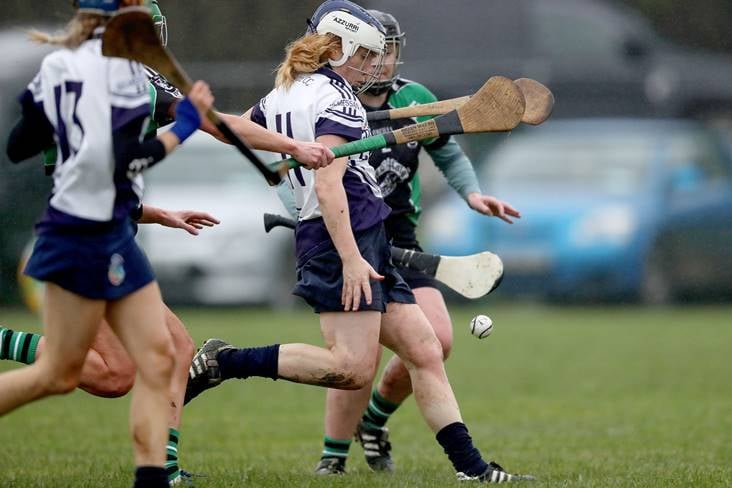 Kilmessan's Aileen Donnelly scores a point.
©INPHO/Bryan Keane.
By Daragh Ó Conchúir
Kilmessan heroine Aileen Donnelly is relieved to have another bite of the cherry after scoring an injury-time goal to ensure the AIB All-Ireland Junior Club Camogie Final goes to a replay next Sunday.
The long-serving centre-forward was her team's only scorer but after both teams struggled on a day that was not conducive to creativity, with persistent heavy rain and biting cold, she insisted that there was more to come from the Meath champions.
Aoife Behan goaled in the 59th minute to put Clanmaurice in front but Donnelly's low strike in the 63rd minute ensured that the teams were deadlocked on 1-4 apiece at Crettyard.
"That's not what we wanted coming up but we'll take it" said Donnelly afterwards. "It's a draw. We could have been going home with no cup and we've got another chance to get it. Next week we'll be back again.
"We didn't perform in the first half and by our own standards we'd be very disappointed with the performance. We're gutted but we're glad we've a draw, we've something out of it and we'll come back next week fighting hard.
"Conditions were mucky and sloppy. I don't know how many rucks there was, how many times the ref threw in the ball, no-one could pick it up, no-one could get clean possession and on a day like that scores are few and far between.
"So when one goal came we thought that could be it, it could be all over but you were hoping to get one chance and luckily we took it and thank God we're back again the next day."
Kilmessan were very slow out of the traps as Clanmaurice raced three points clear inside seven minutes and should have been further ahead.
"In the semi-final we'd quite a comfortable win in comparison to Clanmaurice, who had to really fight and got a last-minute goal themselves to get here. Maybe a little bit of rustiness came into it, I don't know, but I don't' think either team faced that sort of battle before.
"Scores were hard to get, it was a back's day and both sets of backs performed excellently. Both sets of forwards have a lot to improve on."
Behan was clearly downcast, having been seconds away from an ensuring a historic All-Ireland success for Kerry Camogie. But while acknowledging her disappointment, she indicated that the players would be ready to go back to the well once more, having proven their competitiveness on the biggest stage of all.
"It's so sickening" Behan stated. "Scores were so hard to come by and when we finally got one, we thought it might be it. In fairness to them, they never gave up and they did get the goal in the end so it's all to play for again.
"We started off well. It's a pity we didn't get a few more scores on the board but conditions were so difficult, scores were impossible to come by.
"It's gonna be hell for leather (the next day). We know we can give them a good contest again. We know we're still in an All-Ireland Final anyway."
Most Read Stories