Meath and Cork dominate Soaring Stars shortlist
October 06, 2017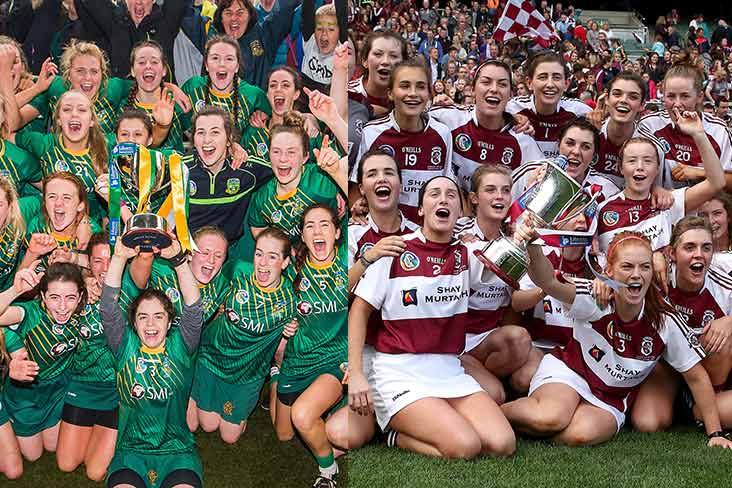 Meath and Westmeath celebrate their All Ireland camogie title wins
All-Ireland intermediate champions Meath and runners-up Cork have received nine nominations each for the Camogie Association's Soaring Star Awards.
All-Ireland 'premier' junior champions Westmeath have four players shortlisted, while beaten finalists Dublin have two. 
At intermediate level, Carlow, Derry, Down and Kildare have all received two nominations each and at 'premier' junior level, Kerry have two players nominated while Waterford and Wicklow both receive one nomination each.
The Soaring Stars will be presented with their awards at the 14th annual All-Stars banquet at Citywest Hotel, Dublin on Saturday, November 4.
The nominees are:
Goalkeepers: Amy Lee (Cork), Niamh McQuillan (Derry), Emily Mangan (Meath)
Full-Back Line: Sarah Harrington (Cork), Niamh Ní Chaoimh (Cork), Leah Weste (Cork), Maria McNally (Down), Niamh Leen (Kerry), Claire Coffey (Meath), Kellie Byrne (Wicklow) 
Half-Back Line: Emma Brennan (Carlow), Sarah Buckley (Cork), Gráinne McNicholl (Derry), Gráinne Free (Dublin), Aoife Trant (Kildare), Áine Keogh (Meath), Laura Doherty (Westmeath)
Midfield: Finola Neville (Cork), Patrice Diggins (Kerry), Emer Reilly (Kildare), Cheyenne O'Brien (Meath), Caoimhe McCrossan (Westmeath)
Half-Forward Line: Eleanor Treacy (Carlow), Katelyn Hickey (Cork), Keeva McCarthy (Cork), Amy Gaffney (Meath), Megan Thynne (Meath), Kristina Troy (Meath), Denise McGrath (Westmeath)
Full-Forward Line: Linda Collins (Cork), Niamh Mallon (Down), Aoife Bugler (Dublin), Jane Dolan (Meath), Aoife Minogue (Meath), Kaeisha Tobin (Waterford), Sheila McGrath (Westmeath)
Most Read Stories